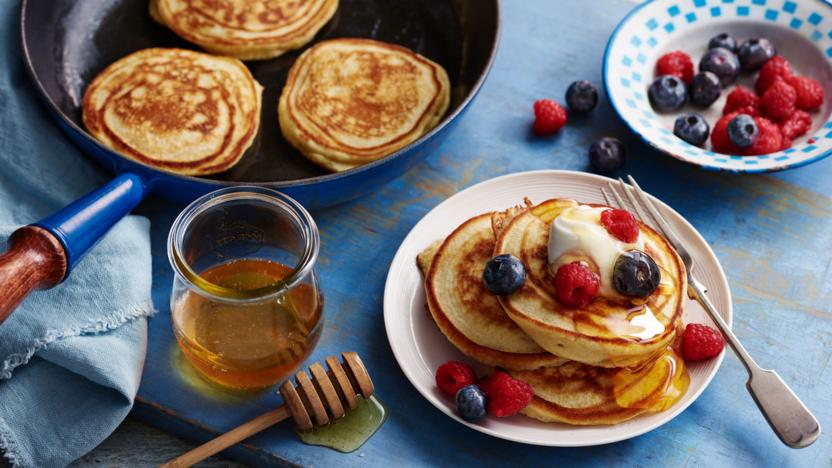 Also known as Scotch pancakes, these were classically made on a solid metal griddle on an open fire. Now it is more practical to use a large non-stick fry pan or if you have an Aga, on the simmering plate.



Method
Measure the flour, baking powder, sugar and orange zest into a mixing bowl. Make a well in the centre and then add the egg and half of the milk. Beat well, with a whisk, until you have a smooth, thick batter. Beat in enough of the milk to make a batter the consistency of thick pouring cream – you may not need all the milk.

Heat a large non-stick frying pan and grease with a little oil. Drop the mixture in dessertspoonfuls onto the hot frying pan, spacing the mixture well apart to allow for them to spread. When bubbles appear on the surface, turn the scones over with a palette knife or spatula and cook on the other side for a further 30 seconds to 1 minute, or until they are lightly golden-brown.

Lift the pancakes on to a wire rack and cover with a clean tea towel to keep them soft. Continue cooking the batter in the same way.

Serve at once with butter, or syrup, or honey, and yoghurt and blueberries, raspberries or other seasonal fruits.
Recipe Tips
If you make these ahead and need to reheat them, arrange in a single layer on an ovenproof plate. Cover tightly with foil and reheat in a moderate oven for about 10 minutes until warm. Serve at once.
Once you've mastered how to make Mary's drop scones, read our guide for more easy pancake ideas.
Related Recipes
See more pancake recipes (61)
See more self-raising flour recipes (524)
This recipe is from...
Recipes from this episode