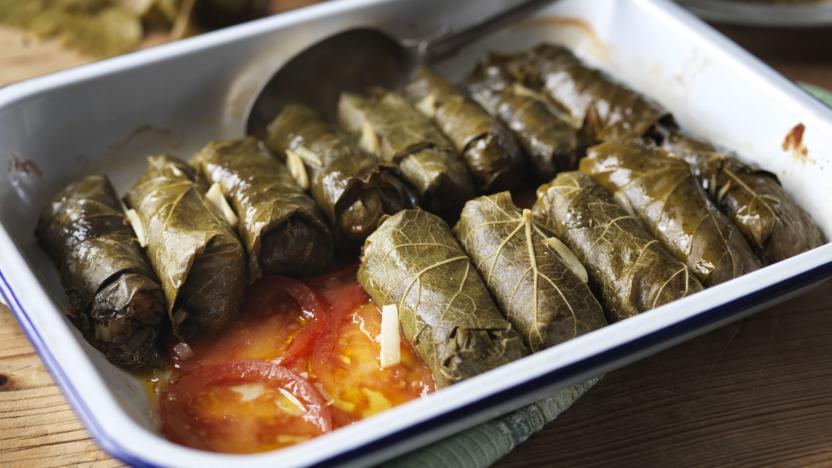 Once you get the hang of them, making dolmades (vine leaves stuffed with rice) is easy. These taste better than any shop-bought variety.
Method
Preheat the oven to 180C/350F/Gas 4.

First, make the filling. In a bowl, combine the rice, meat, onion, herbs, celery, salt and pepper. Fold in the tomato purée.

Place one vine leaf on a plate, vein side up. Take a heaped teaspoon of the filling and place in the centre of the leaf near the stem edge. Fold the stem end up over the filling then fold both sides towards the middle and roll up like a small cigar. Don't roll too tightly as the rice will expand.

Line the bottom of a large ovenproof dish with a layer of tomato slices or left over vine leaves. This will prevent the stuffed leaves from sticking to the bottom and burning.

Pack the stuffed leaves in layers on top, pushing small pieces of garlic between them. Sprinkle with lemon juice and add around 150ml/5¼fl oz cold water. Cover with oiled foil.

Place the leaves in the oven for 45 minutes, adding extra water if necessary. Serve.
Recipe Tips
Serve with shredded lettuce, tomato and lemon wedges.