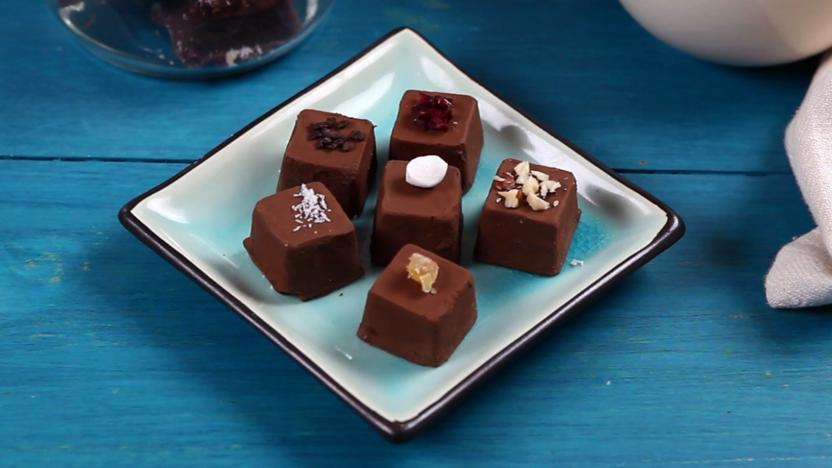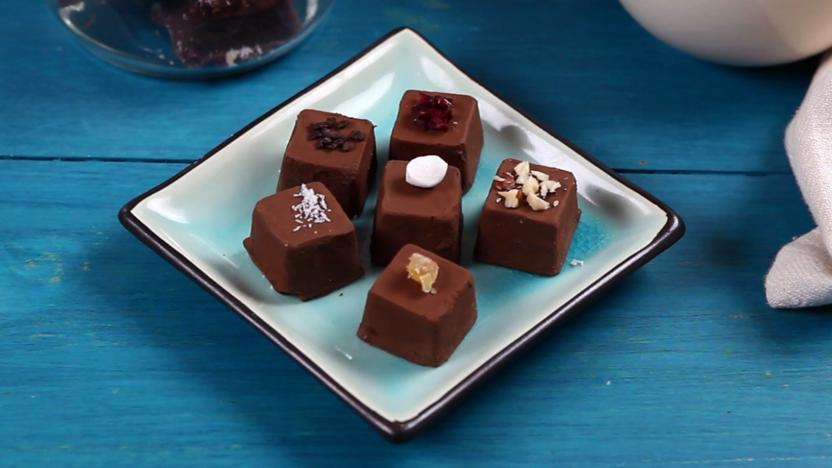 You can choose any filling you like for these easy little homemade chocolates. They are ideal as sweet nibbles or as a gift for family and friends.

Equipment: you will need a large silicone ice cube tray.
Method
Place 200g/7oz of the chocolate in a glass bowl. Melt in the microwave on the lowest setting until almost smooth. Quickly stir in the remaining chocolate. (This lowers the temperature quickly and ensures a smooth and glossy finish.)

Pour the melted chocolate into the ice cube squares until roughly one-quarter full. Move the tray around until the sides of the cube moulds are coated in chocolate. Set aside in a cool place until completely set.

Meanwhile, cover the remaining melted chocolate with cling film and set aside in a warm place. If it starts to set, place the chocolate bowl over a smaller bowl of boiling water and gently stir until smooth again.

To make the coconut filling, place the desiccated coconut in a small bowl and stir in the condensed milk until it sticks together but isn't sloppy. Roll into small bowls.

Once the chocolate base has set hard, you can add a selection of fillings to the squares. Add a coconut ball, or a teaspoon of peanut butter, or sprinkle in a few nuts or fruits. (Do not overfill the squares as this can cause breakages when removing from the mould.)

Pour in the remaining melted chocolate, until all the moulds are full and the fillings are covered. Leave to set hard in a cool place.

Once set, carefully turn out the chocolates. If desired, dab a little melted chocolate on top of each chocolate and sprinkle on any remaining fillings.

Serve on a platter or package up in a gift box or bag to give as a gift.