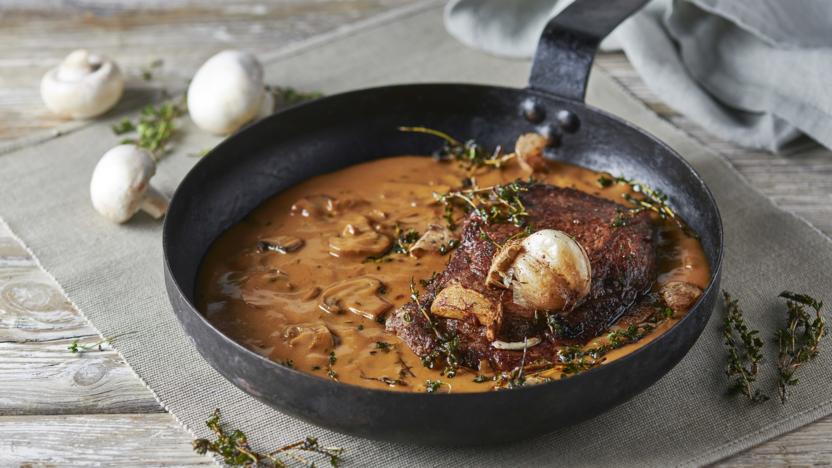 While this traditional accompaniment to steak may be retro, it's a classic for a reason and will stand the test of time. From flambé flare to rich umami satisfaction, this is simply the best.


Method
Allow the steaks to reach room temperature before rubbing them with a little olive oil, then season with sea salt.

Place a non-stick frying pan over a high heat. As soon as it starts to smoke, add a splash of oil followed by the steaks and sear them for around 3 minutes on each side for a medium-rare finish.

Remove the steaks from the pan, and leave them to rest on a rack in a warm place.

In the same pan, fry the shallots in a little more oil on a medium heat until they start to soften. Add the mushrooms and cook for 2 minutes before adding the garlic and butter.

Once the mushrooms are soft and slightly golden, add the brandy or cognac and carefully set it alight by tilting the pan towards the flame on a gas hob. Alternatively, use a match. CAUTION: Keep your face and hair away from the flames. Do not leave unattended.

Once the flames have died down, add the Worcestershire sauce followed by the mustard. Cook the sauce for 90 seconds and then stir in the double cream. Reduce on a medium-high heat until slightly thickened, which should take about 2-3 minutes.

Stir in the parsley, taste the sauce, then season with salt and pepper. Serve with the rested steaks.