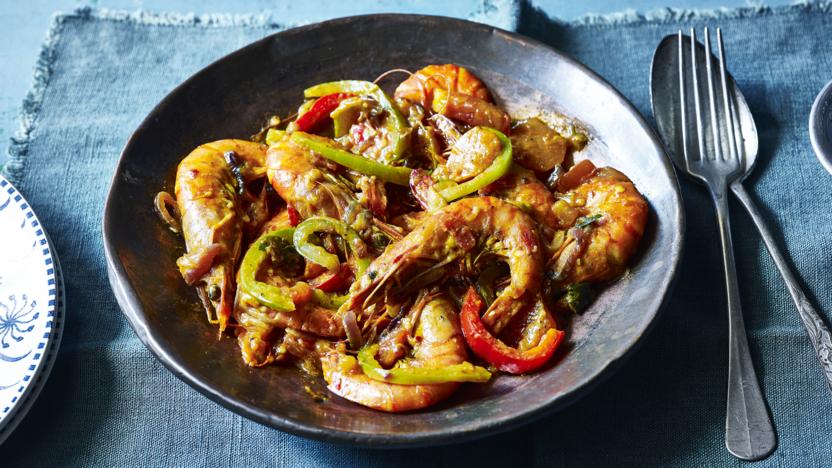 This simple prawn curry is sweet and very spicy, but you can reduce the amount of chilli flakes and chilli sauce if you don't enjoy a lot of heat.
Ingredients
1kg/2lb 4oz raw king prawns, shell and tail on (optional)
1 tsp ground black pepper
1 tsp turmeric
1 tsp chilli powder
2 tbsp vegetable oil
5cm/2in piece pandan leaf, roughly chopped or torn
handful of fresh curry leaves
2 small red onions, sliced
1 carrot, peeled and sliced
2 garlic cloves, roughly chopped
2.5cm/1in fresh root ginger, peeled and roughly chopped
1 tbsp crushed chilli flakes (to taste)
2 tomatoes, chopped
1 tsp salt
1 tsp malt vinegar
1 small red pepper, seeds removed, sliced
1 small green pepper ( or malu miris), seeds removed, sliced
2 tsp cornflour
1 tsp tomato purée
2 tsp sugar
50g/1¾oz chilli sauce or ketchup (optional)
Method
Place the prawns in a large bowl. Sprinkle on the black pepper, turmeric and chilli powder and mix to evenly coat. Set aside to marinate for 10–15 minutes.

Heat a large frying pan over a high heat and add the vegetable oil. Once hot, add the pandan leaf and curry leaves and heat while stirring frequently for 1–2 minutes before adding the sliced onion and carrot. Cook over a medium heat for around 8–10 minutes, stirring frequently.

Meanwhile, make a garlic and ginger paste by bashing the garlic and ginger in a pestle and mortar until well combined. Add to the pan and fry for a couple of minutes. Add the crushed chilli flakes (to taste) and cook for a further minute before adding the marinated prawns. Cook for a further 2–3 minutes, or until the prawns have turned pink.

Add the chopped tomato, reduce the heat a little then stir in the salt and malt vinegar. Cook for a minute before adding the red and green sliced peppers. Reduce the heat and cook, stirring frequently for a further few minutes until the vegetables are tender and the prawns cooked through.

Place the cornflour in a small bowl. Add the tomato purée and sugar then add a little cold water (approximately a tablespoon) to loosen. Towards the end of cooking, stir the mixture into the pan and heat for a couple of minutes.

Finally pour in the chilli sauce or ketchup (if using) and heat for another few minutes. Serve.
This recipe is from...
Recipes from this episode