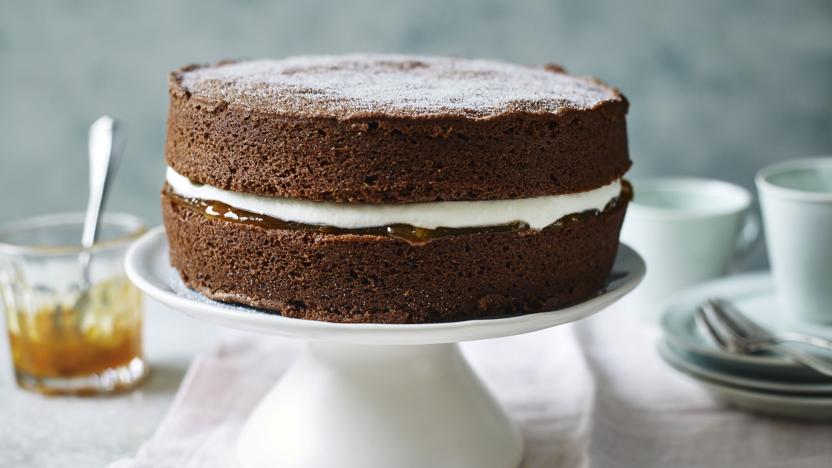 Chocolate cake meets Victoria sponge in Mary's easiest ever chocolate cake recipe filled with cream and jam.

Ingredients
For the filling
Method
Preheat the oven to 180C/160C Fan/Gas 4. Lightly butter two loose-bottomed 20cm/8in sandwich tins and line the bases with baking paper.

Put the butter, sugar, eggs, flour, baking powder and cocoa in a large bowl and beat for 2 minutes, or until just blended. (An electric mixer is best for this, but you can also beat by hand using a wooden spoon.)

Divide the mixture evenly between the tins. Level the surface using a spatula or the back of a spoon.

Bake for 25–30 minutes. The tops of the cakes should spring back when pressed lightly with a finger. Leave the cakes to cool in the tins for 5 minutes. Run a small palette knife around the edge of the tins, then carefully turn the cakes out onto a wire rack. Peel off the paper and leave to cool completely.

Choose the cake with the best top, then put the other cake top-down onto a serving plate. Spread with the jam and whipped cream, put the other cake on top (top upwards) and sprinkle with caster sugar to serve.