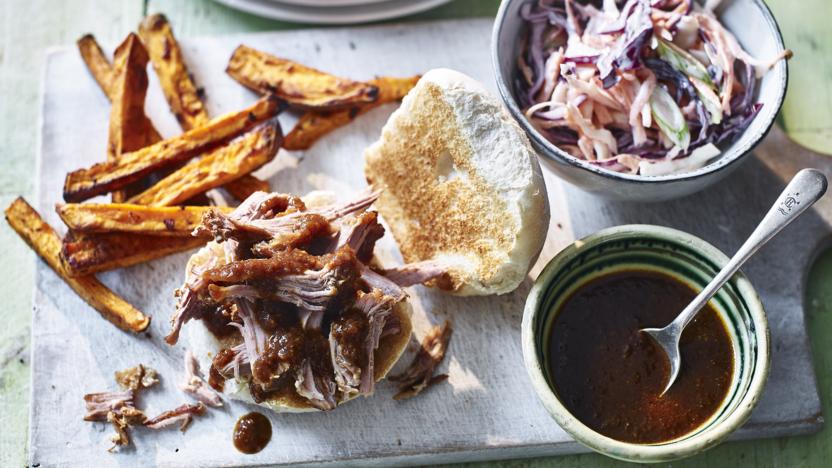 Pulled pork is perfect for a crowd and easy to make. With sweet potato fries and spicy coleslaw, this recipe will give your party an American vibe!

Ingredients
For the marinade
For the sweet potato fries
For the coleslaw
Method
To make the marinade, put all the ingredients in a blender and blend until you have a smooth mixture.

Put the pork in a large saucepan, pour over the marinade and turn the meat until coated. Cover and marinate in the fridge for 2 hours, or overnight if you have the time.

Place the pan over a high heat, add just enough water to cover the meat (you will need about 1 litre/1¾ pints) and bring to the boil. Reduce the heat to a steady simmer, cover with a lid and cook for 1½ hours, or until the meat pulls apart easily with a fork. You will need to turn the pork during the cooking time.

Meanwhile, preheat the oven to 200C/180C Fan/Gas 6. Put the sweet potato in a large roasting tin, drizzle over the oil and sprinkle with the Cajun seasoning and thyme. Roast for 35–40 minutes, turning halfway, until slightly charred on the edges.

When the pork is cooked, remove it from the sauce using a carving fork. Shred the meat, then transfer to a plate, cover with kitchen foil and set aside. Return the marinade to the heat and bring to a steady simmer. Cook without a lid until reduced and thick.

For the coleslaw, put the buttermilk, mayonnaise, vinegar and garlic in a large bowl. Add the carrots, cabbages and spring onions and toss until coated. Season with salt and pepper.

Toast the buns, slide in the pork and spoon over the marinade sauce. Serve with the sweet potato fries and coleslaw.
This recipe is from...
Recipes from this episode