Deep-fried squid with spiced coconut spinach and chickpeas
Smooth puréed chickpeas, creamy spinach and crunchy deep-fried chickpeas and squid give a variety of texture in this classy supper.

You will need a food processor or a blender to make this recipe.

Ingredients
For the chickpea purée
For the spiced spinach
For the deep-fried squid
Method
To make the chickpea stew, blend the chickpeas to a purée with 1 garlic clove, olive oil and a little water to loosen in a blender or food processor. Keep warm until ready to serve.

Heat a little more oil in a pan and fry the onion and remaining two garlic cloves until softened. Add the spices and ginger. Cook for a few minutes, then add the coconut milk. Simmer the sauce until it has thickened, then season with salt and freshly ground black pepper. Add the spinach and cook until wilted. Keep warm.

To make the deep-fried squid, mix the flour, paprika, salt and pepper in a bowl. Heat the oil in a pan or deep-fat fryer until a cube of bread sizzles and goes brown when dropped in. (CAUTION: hot oil can be dangerous. Do not leave unattended.)

Place the squid in the milk, then coat in the seasoned flour and deep fry for a few minutes until golden-brown. Carefully remove and place on a plate lined with kitchen paper.

Deep fry the reserved chickpeas until crisp and golden-brown. Carefully remove from the oil and drain on a plate lined with kitchen paper.

To serve, spoon a ladle of purée onto each of two plates, drain and add the spiced spinach, and top with the crisp squid and chickpeas.
Recipe Tips
Ask your fishmonger to clean the squid – little ones often come ready-cleaned. Cut open the body with kitchen scissors and open out. Wash well, then pat dry. Larger squid can be cut into pieces, small squid just opened up.
This recipe is from...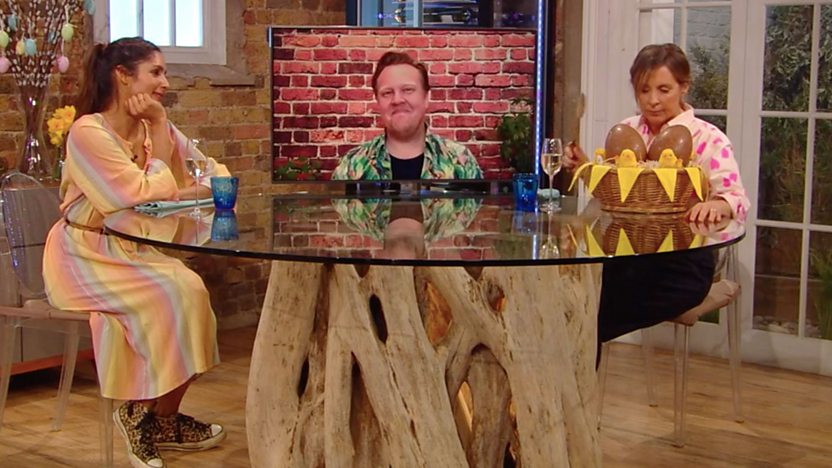 Saturday Kitchen
03/04/2021