Deep-fried garlic snails with onion purée
All the textures in this one! Crisp pastry coats snails cooked in a garlicky, anchovy butter served on a bed of smooth onion purée.



Ingredients
For the flavoured butter
150g/5½oz salted butter
2 tbsp finely chopped curly parsley
3 garlic cloves, peeled and crushed
1 anchovy fillet, finely chopped
splash pastis
freshly ground black pepper
For the deep-fried garlic snails
6 cooked braised snails (available from online specialists), shells removed
1 packet filo pastry sheets (about 12 sheets)
2 free-range egg yolks
For the white onion purée
Method
To make the flavoured butter, mix the butter together well with all the other ingredients in a bowl. Season with black pepper. To make the deep-fried garlic snails, wrap each snail in the flavoured butter well and arrange on a tray lined with greaseproof paper. Leave in the fridge to chill and harden – this will take 2–3 hours.

To make the white onion purée, cook the onions in a pan of boiling, salted water for 10 minutes to soften. Drain. Blend the onions in a food processor or blender with the crème fraîche until thick and smooth. Set aside.

To cook the deep-fried garlic snails, pre-heat a deep fat fryer to 180C. (CAUTION: hot oil can be dangerous. Do not leave unattended.)

Cut out 12 circles of filo pastry about 10cm/4in big and keep the filo covered with a clean tea towel while you work. Beat the egg yolks with 1 tablespoon of water in a small bowl to loosen. Brush each pastry circle with the egg wash and lay two together.

Put a snail in each pair of filo circles and gather the pastry together at the top using the egg wash to stick it together. Place in the fridge for at least 30 minutes.

Remove from the fridge and carefully place into the deep fat fryer and cook until lightly browned (about 2–3 minutes). Carefully remove from the hot oil and drain on a plate lined with kitchen paper.

To serve, spoon the onion purée onto a plate and top with the fried snails.
This recipe is from...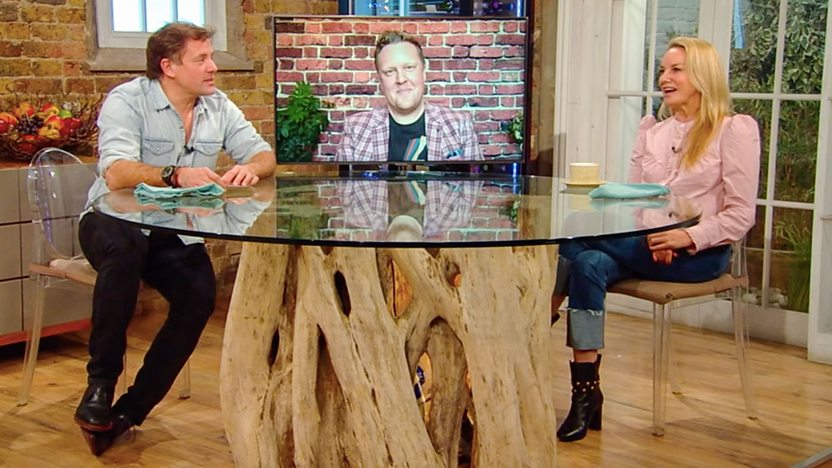 Saturday Kitchen
09/01/2021
Recipes from this episode