Cod fish cakes ('frikadeller') with remoulade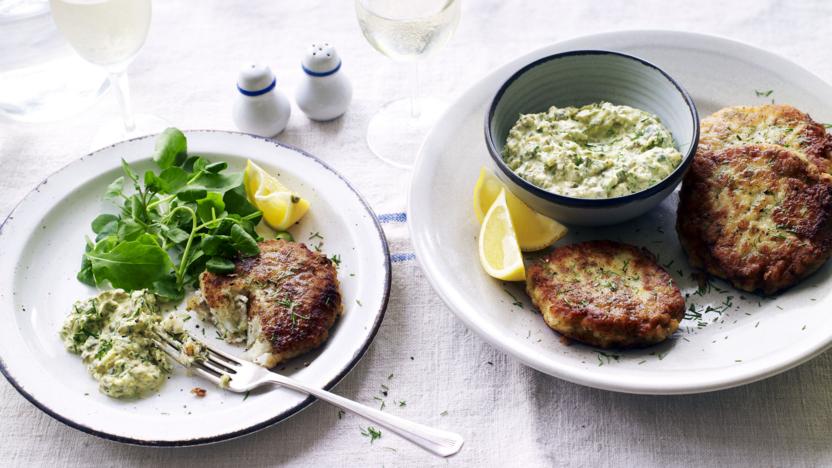 Give the easy cod fish cakes a Scandi twist with this tangy recipe that Rick Stein picked up in Copenhagen.
Ingredients
For the cod fish cakes
For the mayonnaise
For the remoulade
Method
Combine the fish with the cream, lemon zest, egg, flour, salt and pepper in a food processor and pulse until combined. Transfer to a bowl and stir in the chopped dill and capers. The mixture will be a bit sticky.

With lightly floured hands divide into 8 to 12 portions – depending on what size you want the frikadeller – and form into flat patties.

Heat the butter until foaming and fry the patties for 4-5 minutes on each side until golden-brown. Keep warm.

For the mayonnaise, put the egg, vinegar and salt into a blender or food processor. Turn on the machine and very slowly trickle the oil through the hole in the lid until you have a thick emulsion. To make mayonnaise by hand, ensure all the ingredients are at room temperature. Put the egg, vinegar and salt into a mixing bowl. Lightly whisk the yolks to break them and, using a wire whisk, beat the oil in a few drops at a time until it is all incorporated. Once you have added the same volume of oil as the original mixture of egg and vinegar, you can add the oil a little more quickly.

Mix together all the ingredients for the remoulade, folding in the whipped cream at the end. Serve alongside the frikadeller.
Recipe Tips
Any leftover mayonnaise will keep covered in the fridge for a few days.
This recipe is from...
Recipes from this episode