Foolproof pasta carbonara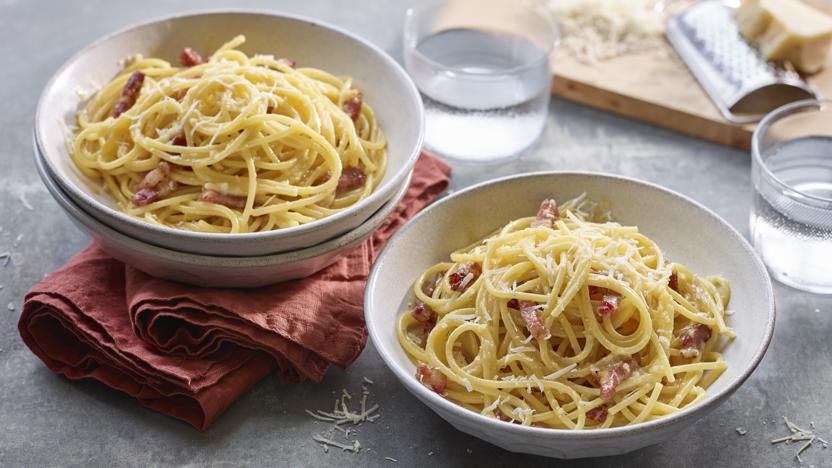 This easy pasta carbonara uses just 5 ingredients, but it's the technique that helps to create that creamy Italian classic with no worries. Italian Michelin-trained chef Danilo Cortellini cooks the eggs gently over a bain-marie for a few minutes to make sure they're hot through without scrambling. Perfect every time.


Method
Gently fry the guanciale or pancetta in a frying pan over a low heat for 10–15 minutes. This will slowly render the fat and allow the guanciale to crisp up. Transfer the guanciale from the fat to kitchen paper using a slotted spoon and pat dry. Dispose of three quarters of the fat in the pan and keep the rest for the pasta.

To create the sauce, whisk the yolks, eggs and the grated cheeses in a large heatproof glass bowl. Place the bowl over a saucepan of gently simmering water and cook gently, whisking constantly, until a thick custard-like consistency is reached. It should take about 2–3 minutes. Do not allow the water to reach boiling point or it will scramble the eggs. It is not essential, but if you have a kitchen thermometer the sauce will be ready when it has reached a temperature of about 62C.

Drop the spaghetti in a large saucepan of boiling salted water and cook according to packet instructions or until al dente. Stir every now and then. Drain the pasta and reserve a mug of the cooking water.

Place the pasta in the frying pan with the reserved fat and mix well. Add the sauce to the pasta and then add a splash of pasta water to loosen the sauce until it reaches a creamy consistency. Stir and toss the pasta in the sauce to make sure it is well coated. You can do this in the bowl where you have whisked the eggs and cheese if you prefer. Add the crispy guanciale and lots of freshly ground black pepper.

Serve in large pasta bowls topped with the extra grated cheeses.
This recipe is from...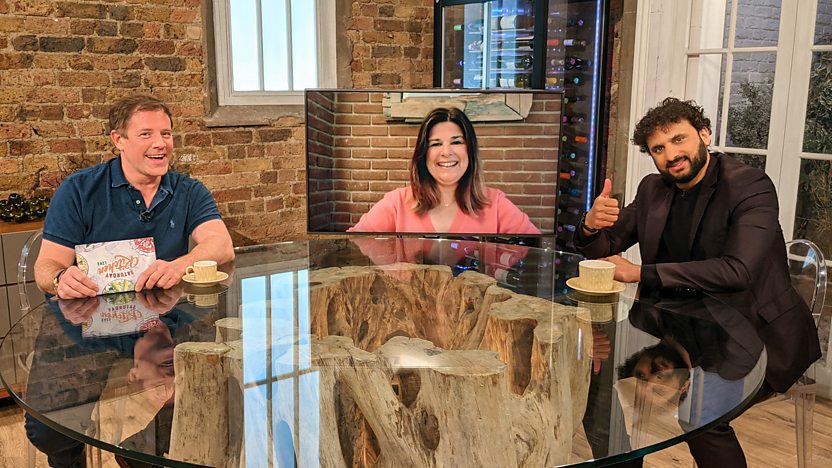 Saturday Kitchen
08/05/2021
Recipes from this episode