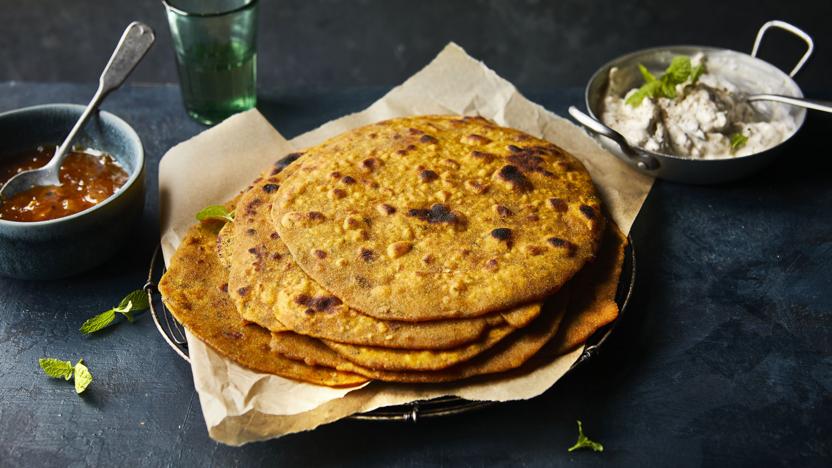 Dal parathas combine red lentils and chapati flour in glorious harmony. These aromatic flatbreads make a fantastic side to a curry.
Ingredients
For the dal
For the apple and chaat masala raita
For the dough
Method
To make the dal, combine the lentils, boiling water, salt and turmeric in a pan and bring to the boil. Cover the pan with a lid and simmer, stirring regularly, until cooked – this should take about 20 minutes. Once the dal is cooked, leave it to cool.

Meanwhile, make the raita. Squeeze the excess liquid out of the grated apple, then combine the apple in a mixing bowl with the rest of the ingredients. Mix together and set aside in the fridge until ready to serve.

For the dough, mix the flour, fresh coriander, ground ginger, chilli powder (or flakes), ground coriander and salt in a mixing bowl. Add the cooled dal to the mixture and knead until smooth and elastic – this should take 5–6 minutes. Rub with the 2 teaspoons of sunflower oil and leave to rest for 15 minutes at room temperature.

Divide the dough into eight equally sized balls. Lightly flour your work surface and roll each ball out into a disc around 2–3mm/⅒in thick and 18cm/7in in diameter. Repeat with each of the dough balls.

Heat a frying pan over a medium heat and, once hot, place a paratha in the pan. Dry fry on each side until small blisters form on the surface, then brush each side with oil and fry until cooked evenly and crispy. Serve hot with the raita and a pickle of your choice.
Recipe Tips
If you have leftover dal, you can use this instead of the red lentil mix in the recipe to make the dough.