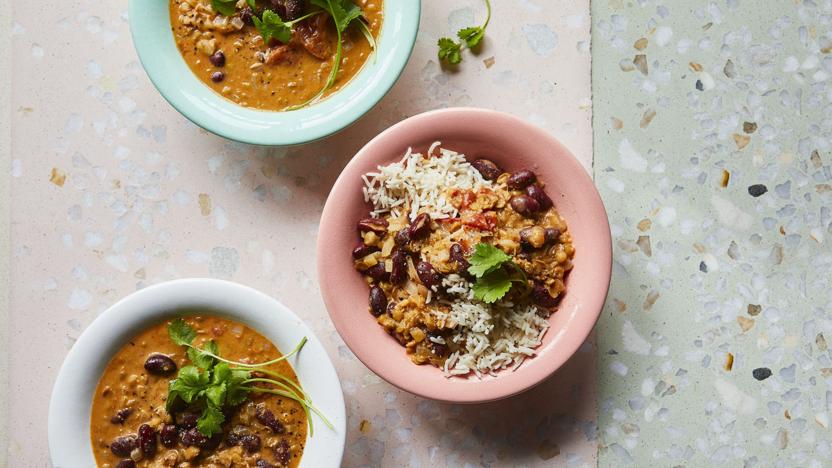 This is one of my favourite curries – it's deceptively substantial for a vegetarian dish, and delicious hot or cold. I often make it by throwing all of the ingredients into the slow cooker at the start of the day, so I come home to a delicious creamy dinner.


Method
Put the lentils and kidney beans in a large saucepan, add the onion, garlic and ginger paste, curry powder, cayenne or chilli (if using) and warm through gently for a minute or two, stirring to mix the spices with the beans and onions. (Traditionally, you would cook the onion, ginger and garlic first with the spices, and then add the remaining ingredients, but I've put them all together like this for years and the difference is barely noticeable - especially in a recipe like this where it's all cooked together low and slow for a while.)

Pour in the coconut milk, and add the oil and tomatoes, and season with a pinch of salt and plenty of black pepper. Bring to the boil, then reduce to a simmer and cook for 30 minutes, or until the kidney beans are soft and beginning to break down and the sauce is thickened.

Remove from the heat, cover and leave to cool completely; the flavours will continue to cook and develop as it cools.

To serve, heat through thoroughly and serve with rice. If you like, scatter over some fresh coriander.
Recipe Tips
I sometimes add frozen spinach or kale for an extra bit of goodness; it's, virtually undetectable if you're trying to feed fussy palates.
The kidney beans can be swapped for black beans, borlotti beans or aduki beans, and the brown lentils for green ones or gungo peas, depending on what you have in the cupboard.
If you're short on coconut milk, use semi-skimmed or full-fat milk with a tablespoon of sugar and an extra tablespoon of oil instead.