Dad's Chinese chicken curry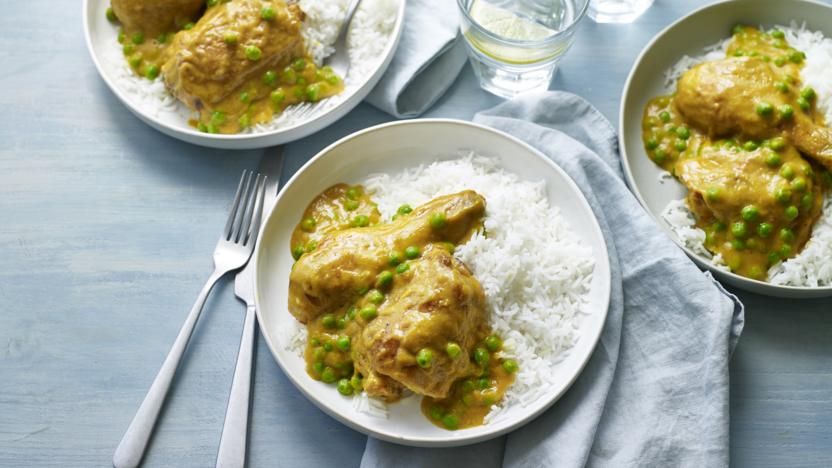 A super-simple Chinese-style chicken curry that can easily be adapted to whatever protein or veggies you have available.

For this recipe you will need a food processor or a blender.

Ingredients
To serve
200–300g/7–10½oz basmati rice, cooked according to packet instructions
Method
Gently heat half the oil in a medium saucepan over a very-low heat. Add the onion, ginger, garlic and chilli. Season with salt and pepper and cook for a few minutes, or until the onions are soft.

Stir in the flour and spices to coat the onion mixture. Add half the stock gradually, stirring constantly.

Remove from the heat and blitz to a smooth paste in a blender or food processor. Return to the heat and continue to add the stock gradually, stirring vigorously all the time to prevent lumps. Set aside.

Add the remaining oil to a large clean saucepan and cook the chicken over a high heat, turning to seal on all sides. Add to the sauce and bring to a simmer for 30 minutes, or until the sauce has thickened and the chicken has cooked through. Stir occasionally and add more water if needed. Add the peas a few minutes before serving.

Serve the chicken curry on serving plates alongside freshly cooked rice, bread or steamed vegetables.
Recipe Tips
Any protein can be used for this dish, such as chicken breast, pork, lamb or fish fillets (though fish will cook faster and do not need to be fried before cooking in the sauce).
You can substitute the fresh chilli for chilli powder or flakes.
The curry sauce can be frozen in ice cube trays and frozen for future meals.
You can freeze the whole curry with the chicken but don't add the peas, these can be added when you reheat the curry.
You can serve this with bread or a veggie dish if rice isn't available.
This recipe is from...
Recipes from this episode