Custard doughnuts with ricotta, blackberries and pistachios
These custard-filled doughnuts are served with sweet ricotta, pomegranate and blackberries for a dessert showstopper.

Ingredients
For the doughnuts
For the filling
To serve
Method
To make the doughnuts, warm the milk in a saucepan over a low heat and add the butter. Cook until melted. Stir in the flour and sugar and beat until a thick batter is formed. Remove from the heat and beat in the eggs. Leave to cool for 1 hour.

To make the filling, mix the vanilla seeds and orange zest into the custard.

Fill a deep-fat fryer or a large, deep, heavy-bottomed pan two-thirds full with the oil. Heat to 180C (a cube of bread should turn brown in one minute when dropped in.) CAUTION: Hot oil can be dangerous. Do not leave unattended. Spoon balls of the doughnut batter into the fryer and cook for a few minutes until golden. Transfer to kitchen paper and dust with caster sugar. Leave to cool.

Use a small, sharp knife to make a cut in the side of the doughnut, cutting through to the centre. Spoon the filling into a piping bag or piping syringe. Pipe, or syringe, the filling generously inside.

Mix the ricotta and icing sugar and spread onto a serving platter. Top with the doughnuts and garnish with the pistachios, pomegranate seeds, blackberries and basil. Drizzle with the pomegranate molasses and serve.
This recipe is from...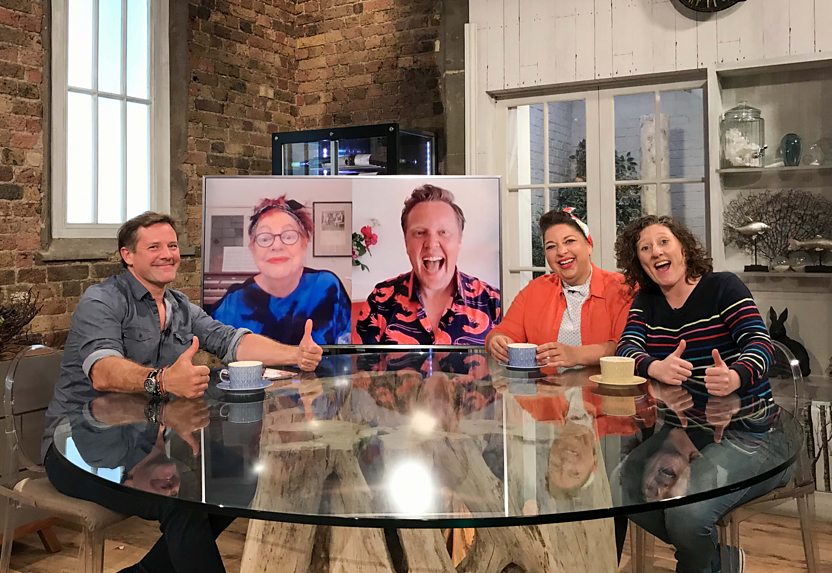 Saturday Kitchen
06/06/2020