Paneer and cauliflower curry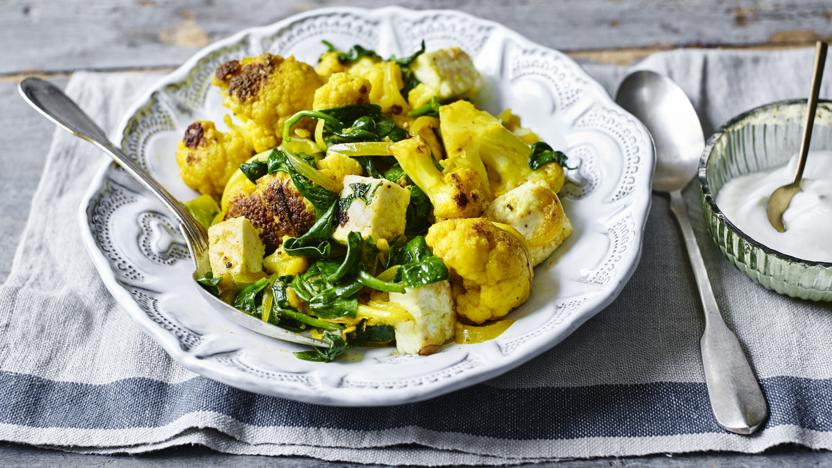 This simple paneer and cauliflower curry is spiced with warming turmeric and ginger. The thick yoghurt adds a touch of luxury.

Ingredients
For the curried cauliflower
Method
Heat a heavy-bottomed saucepan over a medium heat and pour in a teaspoon of the oil. Add the cauliflower and sauté for 15–20 minutes, or until golden. Take your time and don't stir too much or you will create steam, which will hinder the colouring. Drain on kitchen paper.

Add another teaspoon of oil to the pan and fry the paneer until browned. Drain on kitchen paper.

Pour another teaspoon of oil into the pan and add the onion, ginger and garlic. Reduce the heat to medium-low and fry, stirring from time to time, for 10–15 minutes, or until softened. Add the curry powder and turmeric and cook, stirring, for 1 minute.

Return the cauliflower to the pan and add 200ml/7floz water. Simmer for 2 minutes, or until tender. Add the paneer, then the spinach, and stir just until wilted.

Season with salt and serve with some dollops of yoghurt.
This recipe is from...
Recipes from this episode