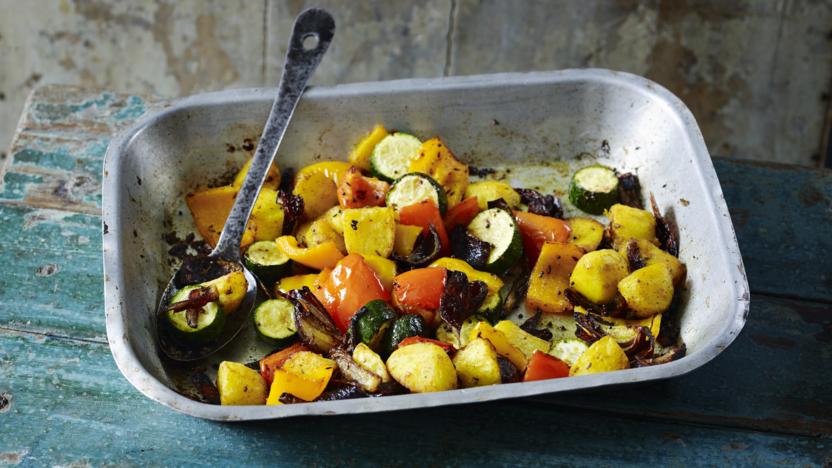 This is a lovely spicy variation on your classic roast vegetables, using a small amount of oil and lots of tantalising tastes. Goes beautifully with masala-marinated chicken, or with plain grilled meat.

199 calories per portion (if serving 4) 160 calories per portion (if serving 5)
Method
Preheat the oven to 190C/400F/Gas 6. Half-fill a medium saucepan with water and bring to the boil. Peel the potatoes, cut them into quarters and lower them carefully into the water. Bring the water back to the boil and cook for five minutes – just enough to parboil them.

While the potatoes are boiling, place a large non-stick frying pan over a medium heat and add the mustard and cumin seeds. Toast for about 30 seconds, then stir in the oil, garam masala and turmeric. Sizzle for a few seconds and add the onion.

Fry the onion in the spices for 1-2 minutes, stirring frequently.

Drain the potatoes in a large colander and toss several times to roughen up the surface of each potato.

Tip the potatoes into the pan with the onion and spices, season with a few twists of ground black pepper and toss together until the potatoes are lightly coated.

Tip everything onto a large baking tray and roast for 30 minutes.

Take the tray out of the oven and add the peppers and courgettes.

Toss lightly together and return to the oven for another 25–30 minutes until the potatoes are crisp and golden-brown and the vegetables have softened.