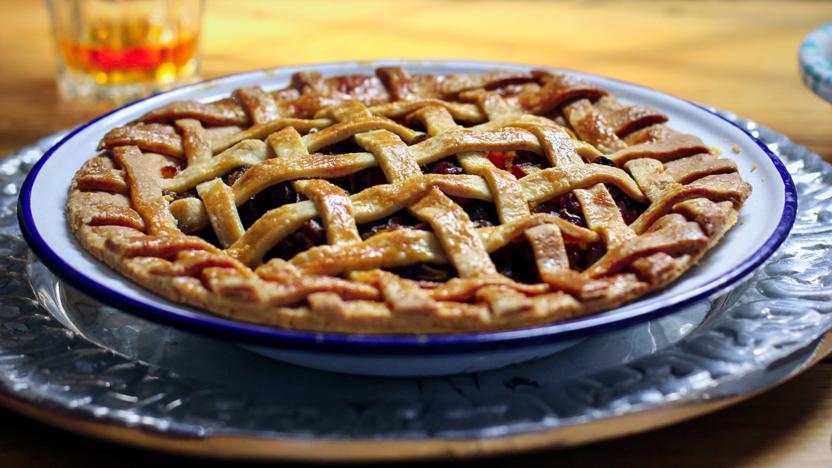 This traditional northern treat is a real favourite of mine. It's stuffed with sticky dates and treacly brown sugar and laced with ginger and rum. 'Nicky' may stem from the original technique of covering the filling with a whole piece of pastry then making slashes or 'nicks' in it.

Equipment and preparation: for this recipe you will need a 20cm/8in metal pie dish, about 3cm/1¼in deep.
Ingredients
For the filling
For the sweet shortcrust pastry
For the rum butter
Method
Start by mixing all the filling ingredients, except the butter, together in a bowl. Set aside to soak while you make the pastry.

For the sweet shortcrust pastry, mix the flour and icing sugar together in a bowl. Add the cubed butter and rub it in lightly with your fingertips until the mixture resembles fine breadcrumbs. Alternatively, do this in a food processor or a mixer and then transfer to a bowl.

Mix the egg with the lemon juice and two tablespoons of cold water. Make a well in the centre of the flour mixture and pour in the egg mixture. Using a table knife, work the liquid into the flour to bring the pastry together. If it seems too dry, add a splash more water. When the dough begins to stick together, use your hands to gently knead it into a ball. Wrap in cling film and rest in the fridge for at least 15 minutes.

Preheat the oven to 180C/350F/Gas 4.

Once the dough has rested, cut it into two pieces, roughly one-third and two-thirds. Roll out the larger piece on a lightly floured work surface. Line a 20cm/8in pie dish with the pastry, leaving any excess pastry hanging over the edge. Spread the filling in the pastry case and dot with the butter.

Roll out the remaining pastry and cut it into eight long strips, roughly 1cm/½in wide. On a sheet of baking parchment, use the pastry strips to create a lattice with four strips going each way, passing them under and over each other.

Dampen the edge of the pastry in the tin with water, then invert the lattice from the paper onto the tart. Press the ends of the strips to the pastry base to secure.

Bake for 15 minutes, then turn the oven down to 160C/325F/Gas 3 and cook for a further 20 minutes.

Meanwhile, for the rum butter, beat together the butter and sugar, then gradually beat in the rum. Refrigerate until needed.

Serve the tart warm or cold, with a spoonful of rum butter.
This recipe is from...
Recipes from this episode