Cucumber and dill fridge pickle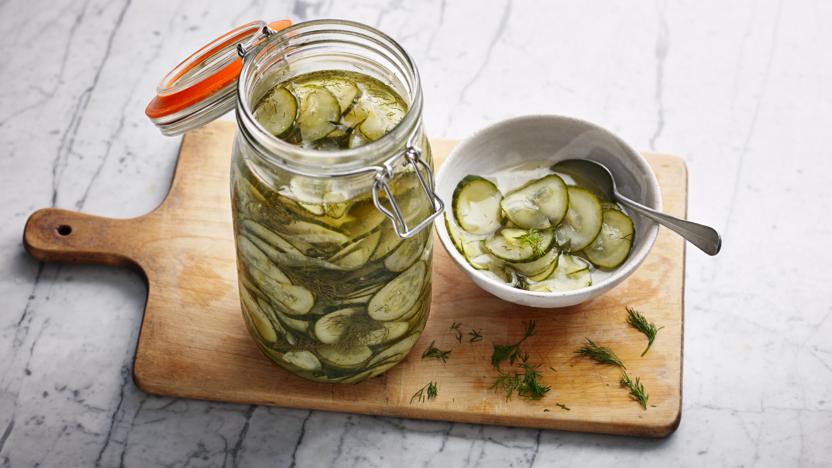 This light, easy pickle is an absolute favourite with everyone I give it to. It's excellent with just about everything, and is simply delicious forked from the jar for a snack.

For this recipe you will need a 1 litre/1¾ pint sterilised jar. See the Recipe Tips for information on sterilising.
Method
Trim the cucumbers (there's no need to peel them) and slice them very finely – the easiest way to do this is using the slicing blade on a food processor or a mandolin (with the guard on). Put the cucumber and the onion in a bowl and toss in the salt, then shake the bowl to distribute it evenly. Cover with a piece of baking paper and weigh down with a plate. Set aside for at least an hour (anything up to 24 hours is fine).

Turn the cucumber into a colander or large sieve and leave to drain for 10–15 minutes. Return the cucumber to the bowl, add the sugar, vinegar and dill and mix together.

Spoon into a large sterilised jar, packing down so the vinegar covers the cucumber. Leave for an hour or so before eating. Store in the fridge for up to a month.
Recipe Tips
The salt draws out the excess moisture from the vegetables, which will help to keep them crisp, intensify their flavour and improve their preservation by preventing the excess water diluting the vinegar.
Prepare your jars and lids shortly before you need them. You can do this by putting them through a hot (60C) dishwasher cycle shortly before you need them (don't try to dry them with a tea towel, let them air dry) or wash them in hot water then place in an oven preheated to 140C/120C Fan/Gas 1 for 15 minutes (switch off the oven and leave the jars inside until needed). Alternatively, place the jars in a large stock pot with a clean folded cloth or trivet placed on the base, cover the jars completely with cold water and bring to simmering point (90C) for 10 minutes. Remove the pan from the heat and leave the jars in the hot water until you need them. When your preserve is ready, carefully remove the jars from the pan, tipping out the water as you do so – a pair of bottling tongs makes this job easy, but otherwise use ordinary tongs.
You can make a smaller quantity of this pickle to fit a 500ml/18fl oz jar. You will need half the cucumbers, but the full amount of the pickling liquid.