Crusted rack of lamb with red wine jus and chargrilled baby carrots
Preparation time
1-2 hours
Cooking time
10 to 30 mins
Treat yourself to crusted rack of lamb with smoky chargrilled carrots.

Preparation time
1-2 hours
Cooking time
10 to 30 mins
Ingredients
For the crusted rack of lamb
For the red wine jus
For the chargrilled carrots
Method
Preheat the oven to 180C/350F/Gas 4.

For the lamb, season the lamb with salt and freshly ground black pepper. Heat a dry ovenproof frying pan then add the lamb rack, skin-side down. Sear the meat on all sides then transfer to the oven to cook for 8-10 minutes.

Meanwhile, place the breadcrumbs, chives, parsley, pine nuts and oil into a food processor and pulse until smooth.

Remove the lamb from the oven and press the crust mixture onto the outside of the rack. Return to the oven for 3-5 minutes, or until the crust is golden-brown and the lamb is cooked to your liking.

For the red wine jus, heat the wine in a small frying pan over a medium heat. Crumble in the beef stock cube and add the tomato purée. Bring to the boil and reduce for 4-5 minutes.

Remove from the heat, add the butter and stir to create a glossy sauce.

For the chargrilled carrots, heat a griddle pan until hot, then add the carrots and oil and cook for 8-10 minutes, turning occasionally, until the carrots are tender and cooked through.

To serve, cut the lamb into separate cutlets and place onto a plate. Place the carrots alongside and spoon the red wine jus around the edge of the plate.
Related Recipes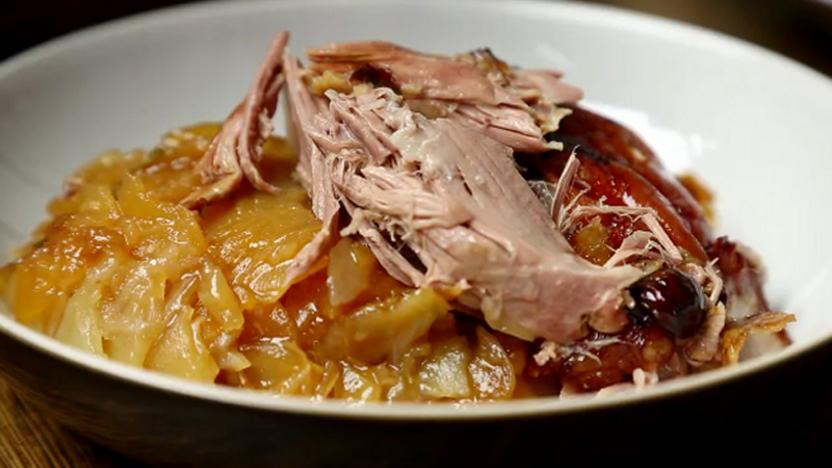 See more roast lamb recipes (70)