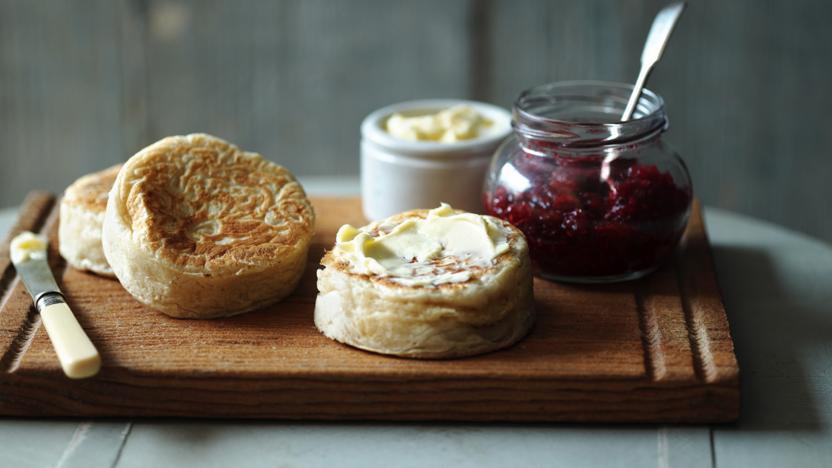 Turn teatime into an event by making your own crumpets on the hob.

Equipment: For this recipe you will need metal crumpet rings or chefs' rings.
Method
Weigh the flours in to a bowl. Add the yeast and stir through the flour.

Dissolve the sugar in the warm milk and pour onto the flour. Using a wooden spoon beat until you have a smooth batter. This will take 3-4 minutes and is hard work, but is essential to produce the holes in the crumpets.

Cover and leave for at least 20 minutes and up to an hour. The batter will rise and then begin to fall. You will see marks on the side of the bowl where the batter was before it dropped.

Mix the bicarbonate of soda and salt with the warm water and beat it into the batter. Add about ¾ of the water and keep adding it until you get a double cream consistency. Cover and rest for 20 minutes.

Heat a flat griddle or heavy based pan. Lightly grease the inside of four metal crumpet rings. Lightly grease the griddle. Sit the rings on the griddle over a medium heat.

Drop two dessert spoons of mixture into each ring. After 4-5 minutes bubbles should appear and the surface should be set. Carefully turn the crumpets in their rings and cook for a further three minutes.

Serve immediately or leave to cool and then toast before eating with plenty of butter.
This recipe is from...
Recipes from this episode