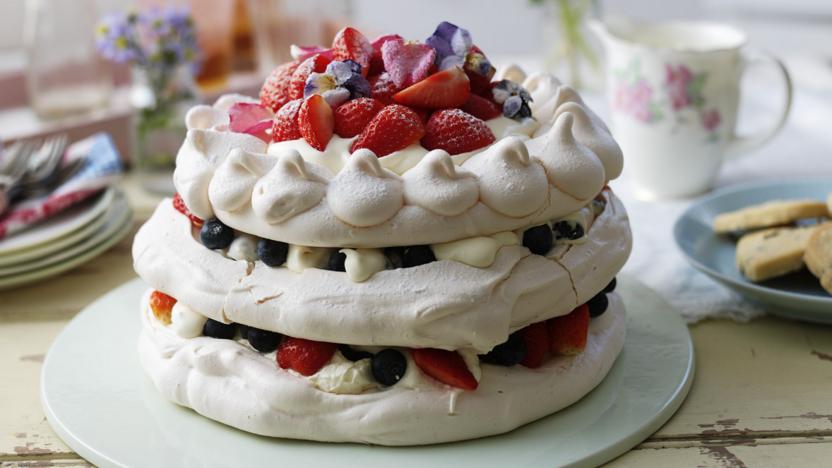 A stunning centrepiece for any party. Fill with your favourite fruit: raspberries, kiwi, mango or passion fruit.
Ingredients
For the filling
Method
Preheat the oven to 180C/350F/Gas 4.

Draw two 20cm/8in circles and a 15cm/6in circle on greaseproof paper and place onto three separate baking trays.

Whisk the egg whites and salt in a large clean dry bowl until they form soft peaks when the whisk is removed. Slowly whisk in the sugar and continue to whisk until the egg whites are stiff and glossy. Whisk in the cornflour and vinegar.

Spoon one-third of the mixture onto one of the 20cm/8in circles. Spoon another third onto the other 20cm/8in circle.

Spoon half of the remaining mixture onto the 15cm/6in circle. Pipe the remaining meringue around the edge of the 15cm/6in circle in a crown shape.

Reduce the oven to 140C/275F/Gas 1 and bake the meringues for 1-1¼ hours, or until the meringue is crisp outside, but feels soft yet set inside. (If you notice that the different meringues are not cooking evenly, swap the shelves.) Switch off the oven and leave the meringue to cool down in the oven.

To assemble the pavlova, carefully peel the greaseproof paper off the bottom of the meringues. Place a 20cm/8in meringue onto a large, flat serving plate. Spread one-third of the double cream onto the meringue and top with some of the strawberries and blueberries. Top with the other 20cm/8in meringue. Spread another third of the cream onto the meringue and top with more strawberries and blueberries. Top with the 15cm/6in meringue and fill with the remaining cream, strawberries and blueberries. Decorate with the crystallised flowers and dust with icing sugar.
Recipe Tips
To make your own crystallised flowers: arrange rose petals, primroses and violets on a cooling rack. Lightly whisk an egg white in a bowl and carefully brush it over the flower petals. Sprinkle over caster sugar, ensuring the sugar sticks to the egg white. Set aside to dry overnight, or until completely dry and firm.