Crispy potato peeling crisps with squash ketchup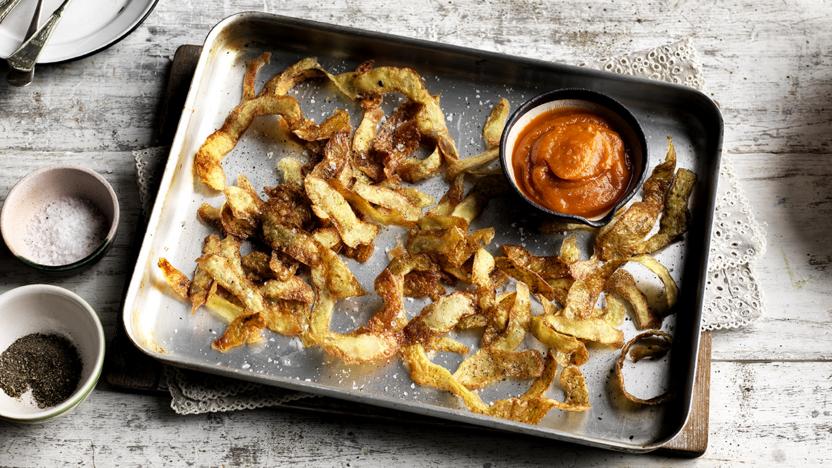 This is fun and tasty and saves throwing away your potato peelings: after all, the skin tastes the best. I like to use any peelings I have as these cheeky little crisps and serve them up with drinks before dinner, the actual potatoes featuring later in the menu.
Ingredients
For the squash ketchup
For the potato peelings
Method
To make the ketchup, add all the ingredients to the smallest pan possible, add water to cover and bring to a simmer.

Once the squash is tender, drain off two inches of liquid and blend smooth with a stick blender or a food processor.

Return to the heat if necessary, and cook down slowly to reduce to a ketchup consistency.

Check the seasoning and add salt, pepper and vinegar as required.

Put the ketchup in a clean, plastic tub or sterile glass jar and keep in the fridge for up to two weeks.

For the peelings, wash and drain the peelings well and then dry the peelings by removing excess water with a tea towel.

Add an inch or so of oil to a deep saucepan and heat to about 160C/325F, or until a small piece of peeling sizzles when added to the oil. (Caution: Do not leave hot oil unattended).

Fry the potato peelings in small batches until crisp, golden-brown and crunchy.

Drain well on kitchen paper and season with salt and pepper.

Serve the potato peelings with the squash ketchup for dipping and a little sprinkling of chilli powder or smoked paprika.