Crisp, chocolate and salted peanut tart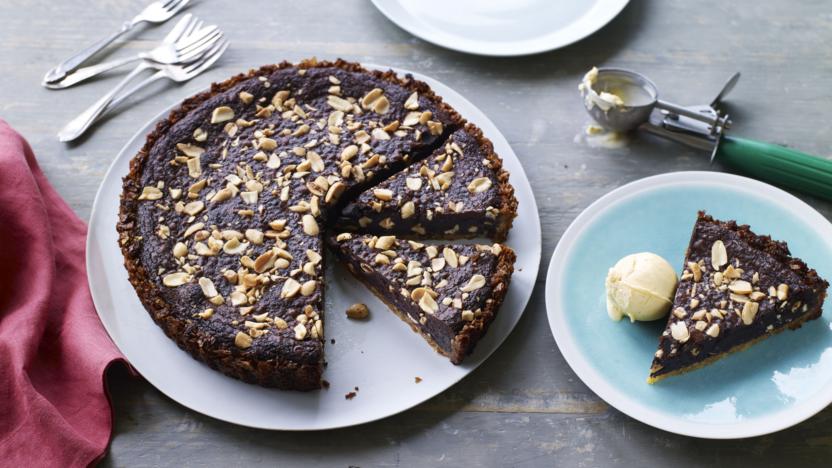 You will never look at crisps in the same way again – no longer just the crunch to accompany your sandwich, they can also be the crunch that accompanies your dessert!
Ingredients
For the base
For the topping
Method
Preheat the oven to 180C/160C Fan/Gas 4. Grease a 23cm/9in, loose-bottomed, fairly deep tart tin.

For the base, crush the crisps to crumbs in a sealed plastic bag with a rolling pin or use a food processor. Melt the butter with the golden syrup in a pan. Stir in the crisp crumbs to bring together.

Press the crisp mixture evenly into the base and sides of the tart tin. Line the tin with non-stick baking parchment and fill with baking beans. Put onto an oven tray and bake for 10 minutes. Remove the baking beans and parchment and set aside to cool.

Meanwhile, for the topping, melt the butter and chocolate in a heat-proof bowl over a pan of gently simmering water (make sure the bottom of the bowl does not touch the water), stirring now and again until completely melted and glossy. Remove from the heat and leave to cool a little.

Whisk together the eggs, yolks and sugar in a large bowl using an electric whisk for 3-4 minutes, until pale and thickened. Whisk the melted chocolate into the egg mixture, until completely incorporated. Stir in a little more than half the peanuts.

Pour the chocolate mixture into the crisp base and sprinkle the remaining peanuts over the top. Bake for 20–25 minutes, or until almost set, but still with a very slight wobble. If the tart is still very wobbly, bake for a further 5 minutes. Leave to cool completely in the tin on a rack, then chill in the fridge for at least 4 hours.

Carefully remove from the tin, slice and serve. Delicious with some vanilla ice cream on the side.
This recipe is from...
Recipes from this episode