Crispy chicken with sweet potato fries and barbecue beans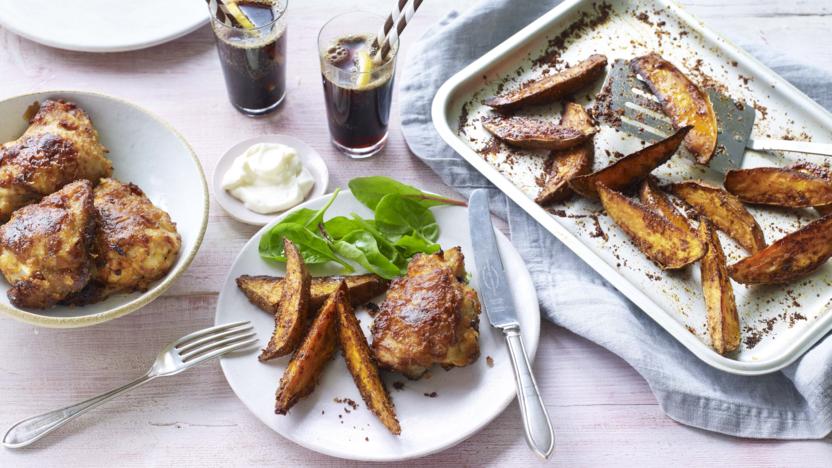 This crispy chicken has a hidden layer of spice and a crisp exterior, and is accompanied by baked sweet potato wedges.
Ingredients
For the chicken
For the sweet potato fries
For the barbecue beans
Method
Preheat the oven to 180C/160C Fan/Gas 4 and line a baking tray with baking paper.

To make the chicken, bring a large saucepan of salted water to the boil, add the chicken, cover with a lid and boil for 15 minutes. Remove the chicken pieces from the water and place on kitchen paper to drain.

Put the chicken in a bowl with the sweet chilli sauce. Mix well and set aside.

Put the flour, baking powder, cayenne, onion powder, garlic powder and salt on a plate and mix. Dip each piece of chicken into the dry spice mix, coat well and set aside on another plate.

Heat the oil in a non-stick frying pan over a medium heat. Add the chicken and fry for 3 minutes on each side, until golden-brown. Place on the lined baking tray and set aside.

To make the sweet potato wedges, combine the garlic powder, paprika and salt in a small bowl. Put the sweet potato wedges on a large baking tray, then cover them with the garlic mix, drizzle with the oil and mix well to coat.

Bake the chicken and sweet potatoes, with the sweet potatoes on the higher shelf, for 25–30 minutes, or until the chicken is cooked through and the wedges are tender.

Meanwhile, mix the beans, smoked paprika and brown sauce together in a small saucepan and warm through over a low heat. Serve everything together.
This recipe is from...
Recipes from this episode