Crisp sea bass tacos with pink pickled onion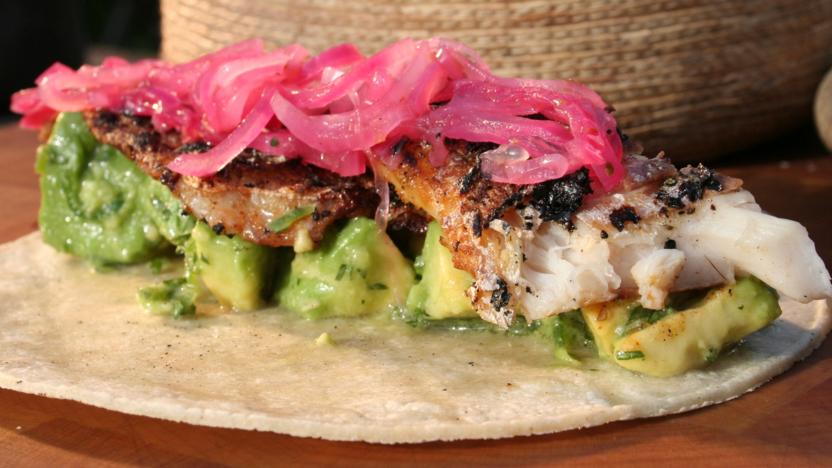 Want to up your barbecue game? Combine crisp sea bass with sharp pickled onions and homemade guacamole and wrap it all up in a tasty tortilla.

Ingredients
For the pink pickled onion
For the sea bass
For the guacamole
For the tortillas
Method
For the pink pickled onion, bring a small pan of water to the boil. Add the sliced onion and boil for 25-30 seconds, then drain well and transfer to a large mixing bowl.

Add the oregano, peppercorns, lime juice, orange juice and salt, then stir well to coat the onions in the juices. Cover and set aside for at least one hour, or until the onions have turned a vibrant pink colour.

Meanwhile, light the barbecue. When the flames have died down and the coals have turned ash-white, the barbecue will be ready (this should take about 30 minutes).

For the sea bass, rinse the sea bass fillets in cold water, then pat dry using kitchen paper.

Season the skin of the sea bass fillets with the salt and chipotle chilli powder. When the barbecue is ready, place the sea bass fillets, skin-side down, onto the grill, and cook for 4-5 minutes, or until the skin is crisp and golden-brown and just over half of the flesh is cooked through.

Turn the sea bass fillets over carefully and cook for no more than 10 seconds, or until the outside of the fillets are just cooked. Transfer the sea bass fillets to a plate, skin-side up. Set aside and keep warm. Just before serving, flake the flesh of the sea bass using a fork.

Meanwhile, for the guacamole, blend the avocado flesh in a food processor until smooth. Add the lime juice, mayonnaise, chopped coriander stalks, coriander leaves and chilli and blend again until smooth and well combined. Season, to taste, with salt and blend again until smooth. Spoon the mixture into a serving bowl and chill in the fridge until needed.

For the tortillas, brush a frying pan with the oil and heat over a high heat until the oil is smoking. Heat each tortilla, one at a time, on both sides, for 15-20 seconds, or until soft and pliable and warmed through.

To serve, place one tortilla into the centre of each of six small serving plates. Spoon a dollop of guacamole into the centre of each tortilla, then lay some of the flaked sea bass and skin over the guacamole. Top with the pink pickled onions and a squeeze of lime juice, then roll up the tortillas into a cigar shape or fold into a U-shape.
This recipe is from...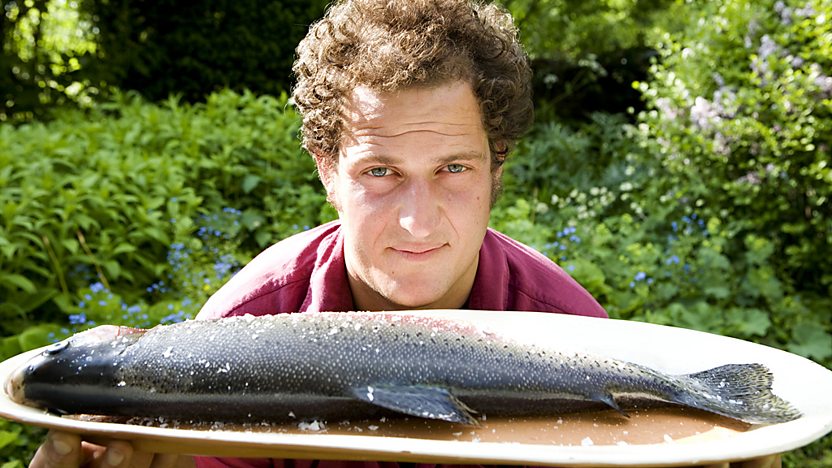 What to Eat Now
Episode 3
Recipes from this episode