Cricket cake with strawberries and lemon curd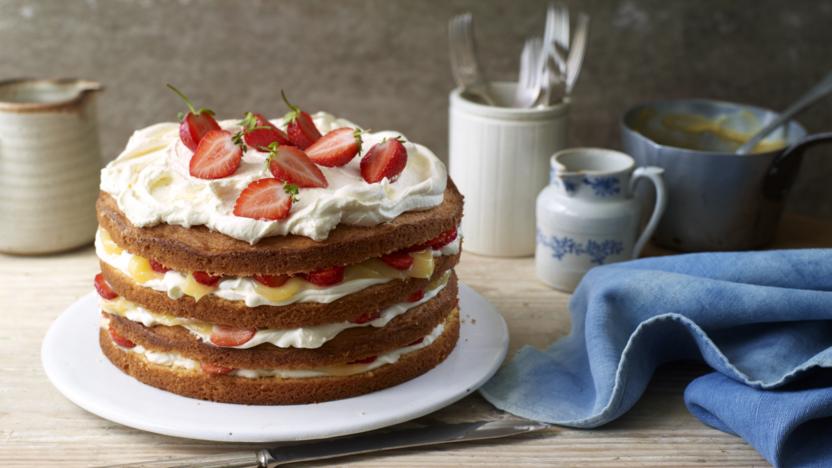 Serve this spectacular layered curd cake after a long and lazy game of cricket, or whilst watching the cricket.

Equipment: You will need two 20cm/8in sandwich tins.
Method
Preheat the oven to 180C/160C Fan/Gas 4. Line two 20cm/8in sandwich tins with discs of non-stick baking paper and grease well.

Put the eggs, flour, sugar, butter, lemon zest and baking powder in a bowl and beat until smooth and combined. Divide between the tins and level the top.

Bake for about 25 minutes, or until the cake is well-risen, golden and shrinking away from the sides of the tins. Set aside to cool for 15 minutes in the tins. Remove from the tin onto a wire cooling rack and allow to cool completely.

Cut the three or four whole strawberries in half through the stalk and set aside to decorate. Slice the remaining strawberries.

Slice each cake in half horizontally and sit one slice on a cake stand. Spread with a quarter of the whipped cream, then 2 tablespoons of lemon curd, then a third of the sliced strawberries.

Continue layering the cake. Finish with a large dollop of cream in the centre of the top slice, then decorate with the reserved green-topped strawberries. Cut into wedges to serve.