Creole spiced squash with molasses chicken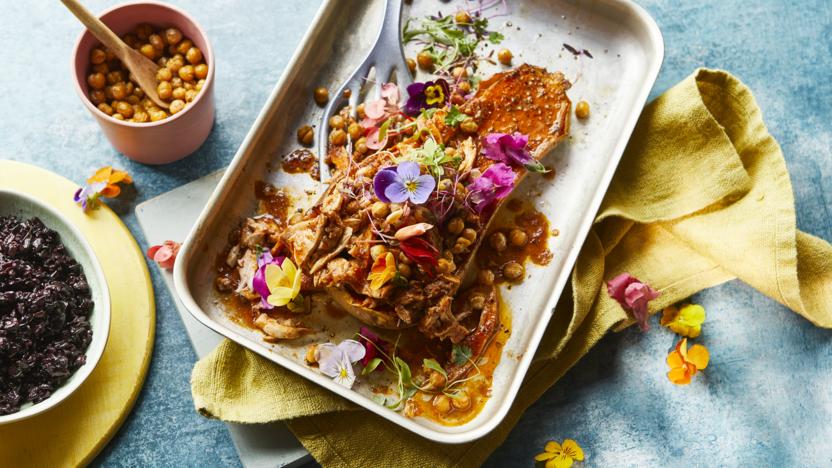 A warming roast squash recipe that's full of autumnal colours and flavours.
Ingredients
For the squash
½ large squash, cut in half and seeds removed
drizzle olive oil
1 tsp Creole seasoning (see tip box for a link to Shivi's recipe)
For the chicken
For the coconut rice
For the chickpeas
To serve
Method
To make the squash, preheated the oven to 200C/180C Fan/Gas 6, pop the squash on a baking tray lined with baking paper, drizzle over the oil and sprinkle over the seasoning. Bake for 45–50 minutes until the edges have begun to brown a little and the squash is tender. Set aside.

To make the chicken, heat the oil in a saucepan over a low heat and add the Creole seasoning. Stir until fragrant, then add the passata, molasses and chicken. Cover and simmer until the chicken is cooked through. Shred the chicken with two forks, then return to the pan and continue to simmer until the sauce is thick. Check the seasoning, then set aside.

To make the coconut rice, heat the oil in a saucepan and cook the garlic, thyme, allspice and rice until fragrant.

Add the coconut milk and 200ml/7fl oz of water and bring to the boil. Stir, season with salt and pepper and cook for 20–30, or until the rice is tender.

To make the chickpeas, heat the oil in a deep-fat fryer to 180C. Deep-fry the chickpeas for a few seconds until crisp and golden. Carefully remove with a slotted spoon and drain on kitchen paper to absorb any excess oil, and sprinkle with sea salt.

To serve, put the squash on a plate, ladle over the shredded chicken and top with the crispy chickpeas. Serve with the rice and garnish with edible flowers.