Creole gumbo with cornbread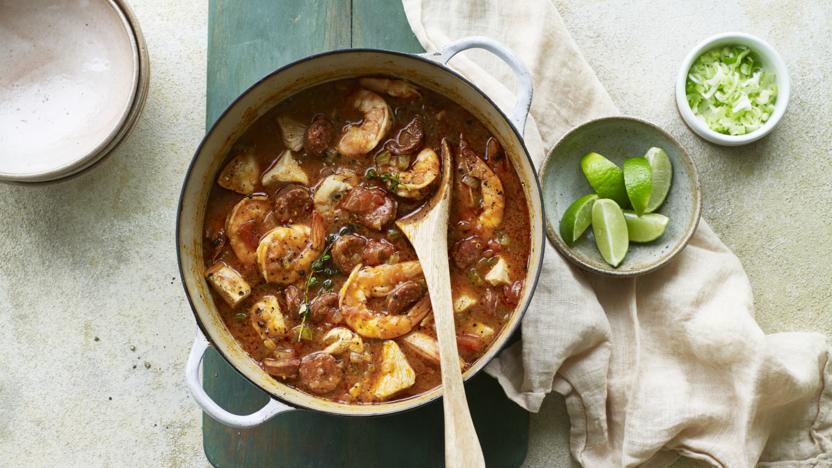 A classic gumbo is packed with flavour. You could reduce the meat in this dish by using sweet potato instead of chicken.

Ingredients
For the creole gumbo
4 tbsp olive oil, plus extra if needed
2 chicken breasts, skin removed and chopped into large chunks (or cubed sweet potato or sweetcorn)
200g/7oz smoked sausage, sliced (or chorizo)
1 large onion, finely chopped
2 celery sticks, finely chopped
2 garlic cloves, finely chopped
1½ tbsp Cajun seasoning
2 thyme sprigs
1 heaped tbsp plain flour
500ml/18fl oz chicken stock
400g tin chopped tomatoes
175g/6oz okra, topped and tailed then sliced into 1cm/½in pieces (optional)
200g/7oz king prawns, head and tail left on, peeled and deveined (or mussels, clams or any shellfish, scrubbed and debearded)
salt and freshly ground black pepper
2 tbsp chopped red amaranth, to garnish
1 spring onion, finely chopped, to garnish
1 lime, cut into wedges, to serve
For the cornbread muffins
Method
To make the gumbo, heat the oil in a large saucepan over a medium heat and add the chicken and sausage. Brown on all sides, remove and set aside.

Heat a little more oil if needed in the pan and add the onion, celery and pepper. Fry for 5–10 minutes, stirring regularly until softened. Add the garlic, Cajun seasoning and thyme and stir continuously for about 20 seconds or so, until aromatic.

Return the chicken, sausage and any juices back to the pan. Add the flour and stir to coat all of the ingredients. Add the stock (you will only need half of it if you don't include the okra), tomatoes and okra, if using, bring to the boil, then reduce the heat to low and simmer with the lid on for 15–20 minutes until cooked. Season with salt and pepper. Add the prawns (do not add prawns now if you are freezing the gumbo, see tip) and cook for a few minutes until they are pink and just cooked.

To make the cornbread, preheat the oven to 200C/180C Fan/Gas 6 and grease two 6-hole muffin tins or one 12-hole muffin tin with a little melted butter.

Heat about a tablespoon of the butter in a small frying pan. When it starts to foam, add the spring onions, sweetcorn and chilli and fry for about 5 minutes, stirring often, until the sweetcorn is golden.

In a small bowl, mix together the polenta, flour, baking powder and salt. In a large bowl, whisk the soured cream with the eggs, milk and remaining melted butter until smooth. Fold the dry polenta mixture into the soured cream mixture until you have a smooth batter and then stir in the sweetcorn mixture until evenly mixed. Divide the mixture between the holes in the muffin tins and bake in the oven for 25–30 minutes until golden and cooked through.

Garnish the gumbo with the amaranth and spring onions and serve with the lime wedges and muffins alongside. Store any leftover cornbread in an airtight container for up to 3 days.
Recipe Tips
To freeze, leave to cool completely, then divide into portions and place into labelled resealable freezer bags. To defrost, empty into a saucepan and place over a low–medium heat, breaking it up as it defrosts. Add a splash of water, increasing the heat until piping hot. Add the prawns towards the end and cook until pink and just cooked.
Any leftover cornbread can be stored in an airtight container for 3 days.
This recipe is from...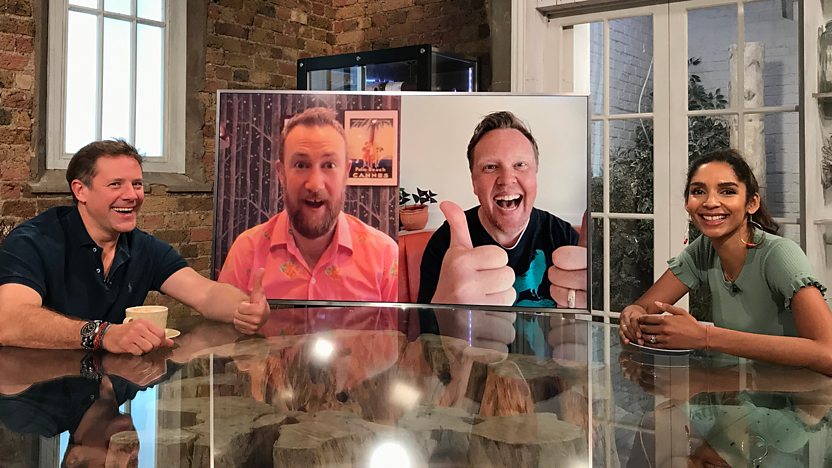 Saturday Kitchen
02/05/2020