Crème brûlée with marinated autumn fruits and mint broth
Ingredients
For the crème brûlée
For the marinated fruits
For the mint broth
300ml/11fl oz milk
2 tbsp crème de menthe
Method
Place the caster sugar and egg yolks into a bowl and beat together until pale and light.

Place the milk into a saucepan with the vanilla pods and bring to the boil, then remove from the heat.

Slowly add the milk to the beaten eggs and sugar, whisking constantly, then add the cream in and whisk gently to combine. Place into the fridge and leave for 12 hours to infuse.

Preheat the oven to 140C/285F/Gas 1.

Line the bases of eight small chefs' rings with two layers of cling film, then place onto a flat baking tray. Divide the mixture between the chefs' rings and place into the oven to cook for 45 minutes, or until the mixture has set like an egg custard. Remove from the oven and leave to cool.

Sprinkle the top of the crème brûlées with Demerara sugar. Place each ring onto a plate and then carefully remove the ring and cling film.

Heat the top of the sugar with a mini-blowtorch, until the sugar melts and turns golden-brown.

For the marinated fruits, remove any stems from the fruits and cut the strawberries into quarters.

Take a quarter of each fruit and place into a large bowl. Add the caster sugar and, using a fork, mash the fruits together.

Add the rest of the fruit, mix well and add the mint. Leave to stand for five minutes.

Taste the fruit mixture and add a little sugar if the fruit is too sharp.

For the mint broth, place the milk and creme de mênthe into a saucepan and heat until hot, but do not boil.

Using a hand blender, froth the milk to produce a 'cappuccino' effect.

To serve, spoon the fruit onto each plate around the crème brûlées, then spoon the mint broth over the fruit and around the plates.
This recipe is from...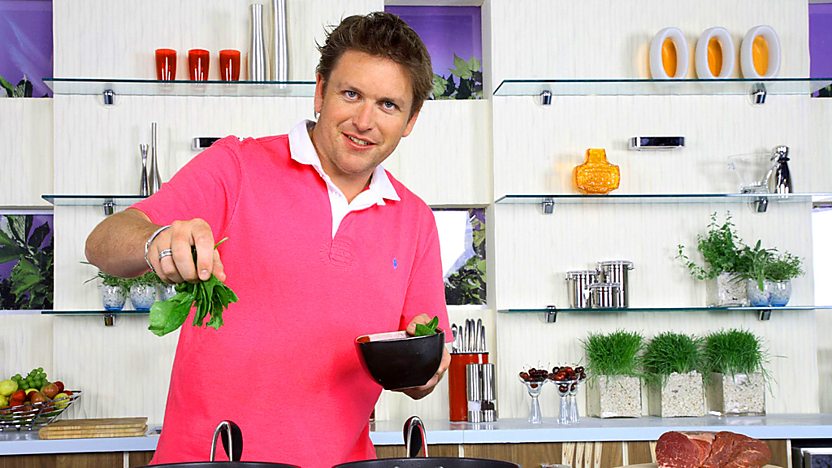 2007-16
204. 18/10/2015