Creamy white wine chicken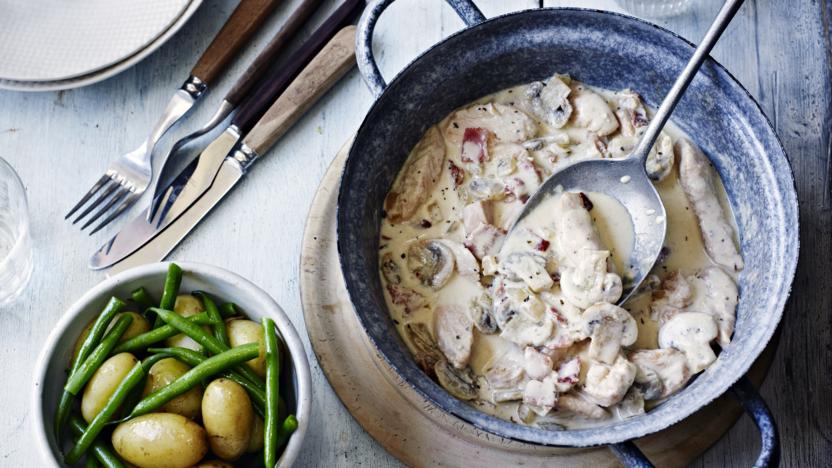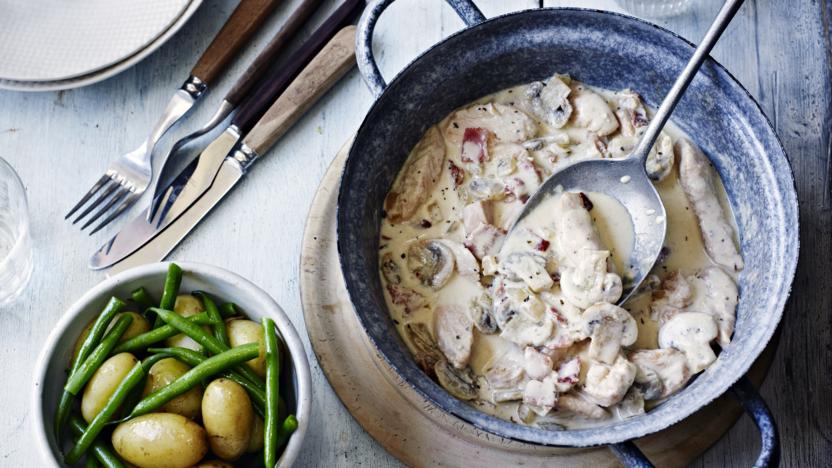 Creamy chicken in white wine sauce given a boost of flavour from smoked bacon. It's easy enough for everyday dinners while still being plenty good enough for special meals.
Method
Put a large cooking pot over a high heat and add the oil. Slice the bacon, add to the pan and fry for 3-4 minutes until crisp. Remove from the pan and set aside.

While the bacon is frying, cut the chicken into bite-sized strips. Put the chicken in the pot, season with a little pepper and brown on all sides until golden. Remove and set aside on the plate with the bacon.

While the chicken is frying, peel and chop the onion and garlic and slice the mushrooms. Reduce the heat slightly and add the butter. When it begins to foam, add the onions, season with salt and pepper and fry for 3-4 minutes until softened. Add the garlic, cook for 1 minute then add the mushrooms. Fry for 3-4 minutes until softened then stir in the herbs.

Pour over the wine and bring to the boil. Return the chicken and bacon to the pan, plus any resting juices and cook over a medium heat for 3-4 minutes. Add the cream, bring to the boil then simmer for 10 minutes.

Meanwhile bring a large pot of salted water to the boil and add the potatoes. Cook for 10 minutes then add the beans to the pan and cook together for a further 3 minutes. Drain and serve with the creamy chicken.