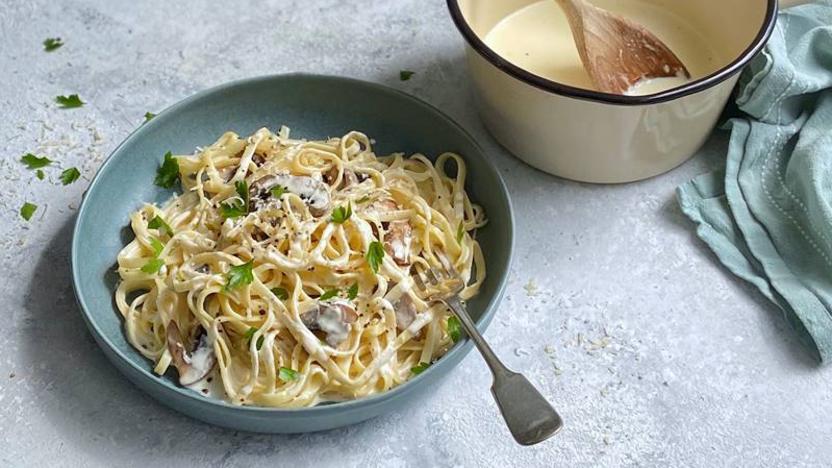 Rustle up a quick and comforting pasta dish any night of the week with this creamy pasta sauce recipe. For vegans, swap in plant-based cream and vegan cheese.
Method
Half fill a large saucepan with water, add plenty of salt and bring to the boil. Add the pasta and cook for 10–12 minutes, or according to the packet instructions, until just tender, stirring occasionally.

Just before the pasta is ready, pour the double cream into a small saucepan, add the garlic and bring to a very gentle simmer, stirring constantly. Add around 100ml/3½fl oz of the pasta cooking water and the grated Parmesan and stir until melted. Season with salt and pepper.

Drain the pasta in a colander, then return it to the pan it was cooked in. Add the sauce and mix well. Serve topped with extra cheese.
Recipe Tips
Use any kind of cheese you like for this sauce – mature cheddar and blue cheeses both work well. If using a milder cheese, add a little extra for a fuller flavour.
If you don't have double cream, use single cream or crème fraîche instead. Soft cheese, such as cream cheese, can be used as alternative too – it's richer than the cream, so 100g/3½oz should be plenty, along with an extra splash of water.
If you have any fresh herbs to hand, such as parsley, basil or dill, finely chop and add to the sauce at the same time as the pasta. You can also stir in dried chilli flakes, sliced fresh chilli and finely sliced spring onions.