Creamy lentils with smoked haddock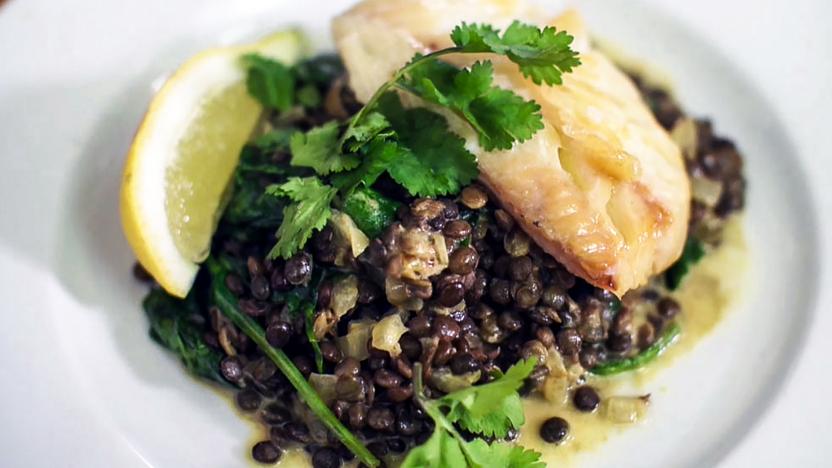 Want to make fish fo further? Serve smoked haddock with creamy lentils for a satisfying supper that won't break the bank.
Method
Put the lentils in a large saucepan and cover with 5cm/2in water. Cook over a medium heat, you don't want to boil the lentils, for about 20 minutes. To test if the lentils are cooked crush one between your fingers, it should feel creamy not starchy. Season the lentils with salt and pepper.

Heat a large heavy-bottomed frying pan, melt the butter then add the onions and cook over a medium heat. When the onions have turned golden and are starting to soften stir in the curry powder. Then add the cream and cook for a few minutes.

Add the cooked lentils to the onions and stir. Then add the spinach and cook until the spinach has wilted down.

Meanwhile, heat a large frying pan and add the oil. Fry the smoked haddock for 2-3 minutes on each side, or until it is starting to flake and is cooked through.

To serve, divide the lentils between 4 plates. Top each plate with a portion of haddock and a generous squeeze of lemon juice.
Recipe Tips
The lentils can be cooked in advance to make this a speedy supper. Season the lentils with salt, pepper and olive oil and leave to cool. Once cool cover the lentils and place in the fridge.