Creamy chilli, bacon and tomato spaghetti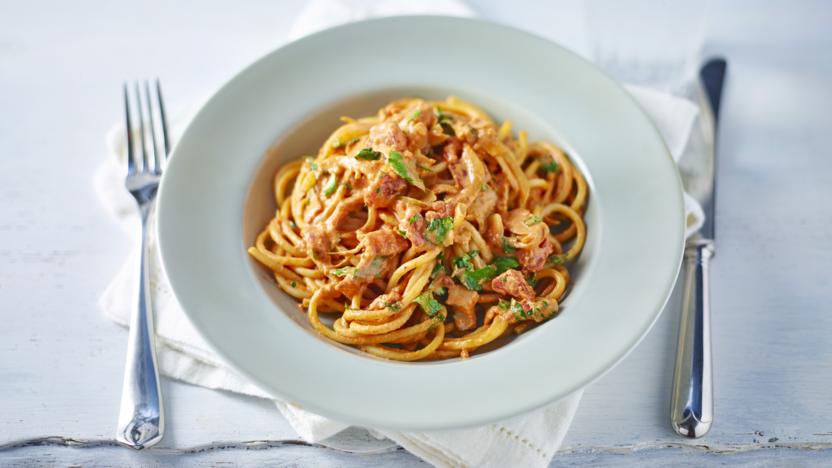 Using less meat is an easy way to save money without compromising on taste. This quick pasta dish makes a satisfying family meal from just four rashers of bacon.
Method
Half-fill a large saucepan with water and bring to the boil.

Heat the oil in a large, non-stick frying pan over a medium heat. Add the onion and bacon and fry for 5-6 minutes, or until softened and lightly browned. Add the garlic and fry for a further minute (don't let the garlic burn or it will be bitter).

When the water is boiling, add the spaghetti in four batches, allowing each batch to soften into the water before adding the next. Stir well, then cook the spaghetti according to the packet instructions, stirring occasionally.

While the spaghetti is cooking, stir the chilli flakes into the onion and bacon mixture, then add the tinned tomatoes, tomato purée, oregano and 250ml/9fl oz water. Season, to taste, with the salt and freshly ground black pepper. Bring the mixture to a simmer and cook for 10 minutes, stirring regularly, until thickened. Stir in the cream and return the mixture to a gentle simmer.

Drain the pasta in a colander and return to the pan. Pour over the creamy tomato sauce, then stir the sauce into the spaghetti until evenly coated.

To serve, divide the spaghetti equally among four warmed serving bowls and serve.
Recipe Tips
Tip 1: If preferred, omit the cream from this recipe and reduce the quantity of chilli flakes to ½ tsp.
Tip 2: Use any shape of dried pasta you like for this recipe.
Tip 3: Use 1 finely chopped fresh red chilli if you prefer. Don't bother to deseed if you like your food quite hot. Chillies can vary enormously in heat, so taste a tiny piece before you cook and adjust the amount accordingly.