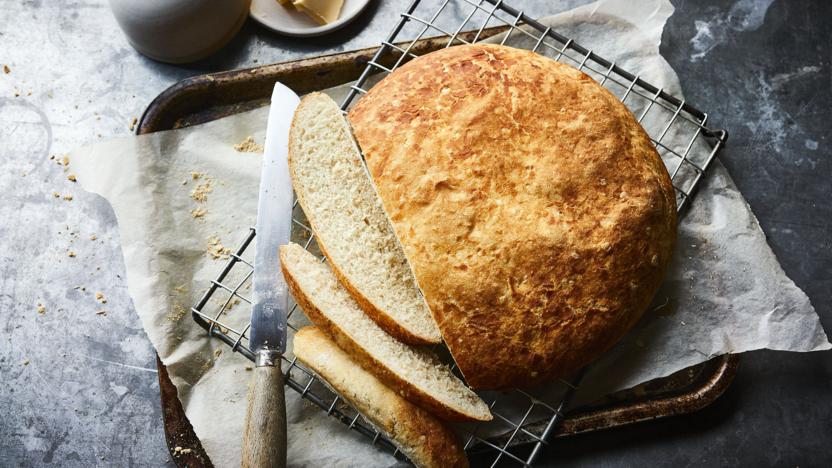 You'll be amazed how easy it is to make tiger bread. With it's crackly top, crunchy crust and light interior, you won't just be saving it for special occasions. Perfect with a big bowl of soup.
Ingredients
For the bread
For the topping
Method
To make the bread, put the flours, yeast and salt into a large bowl (or a freestanding food mixer with a dough hook) and give a quick mix to combine. Add 275ml/9¾fl oz of water, and mix with your hands (or the mixer on low) until the dough comes together. Either turn out on to a floured surface and knead for 10 minutes, or increase the speed of the mixer to high and knead for 8 minutes. The dough should be smooth, springy and elastic.

Lightly grease a large clean bowl with oil and add the dough. Cover with a large plastic bag, cling film or a damp tea towel. Allow to prove in a warm place for about 30–45 minutes or until it has nearly doubled in size.

For the topping, mix the rice flour in a small bowl with the sugar, yeast and salt. Stir in the oil and 25ml/1fl oz of warm water until it forms a thickish paste – the consistency should be easily spreadable, if it's too thick add a little more warm water. Cover and set aside in a warm area until ready to use.

To check that the dough is risen enough, dip your finger in some flour and then dip it into the side of the bread making a small indent. If the dough springs back halfway it is ready.

Once the dough has sufficiently proved, knock it back and reshape. Sprinkle a little more flour on the work top and pull the edges of the dough down to the bottom to create a ball shape. Rotate the dough with your hands, cupping it round the bottom of the ball, to shape it into tight ball with a smooth top. Transfer to a floured baking tray.

Leave to proof again until nearly doubled in size. After about 20 minutes, use your hands to rub the topping paste all over the top and sides of the bread in a nice even layer, then leave to finish proofing.

Preheat the oven to 200C/190C Fan/Gas 6.

Bake the bread for 25–30 minutes. The bread should be crackled on top and sound hollow on the bottom when tapped (use a clean tea towel to protect your hands.

Once ready, remove it from the oven and allow to cool on a wire rack before slicing.