Courgetti with vegan pesto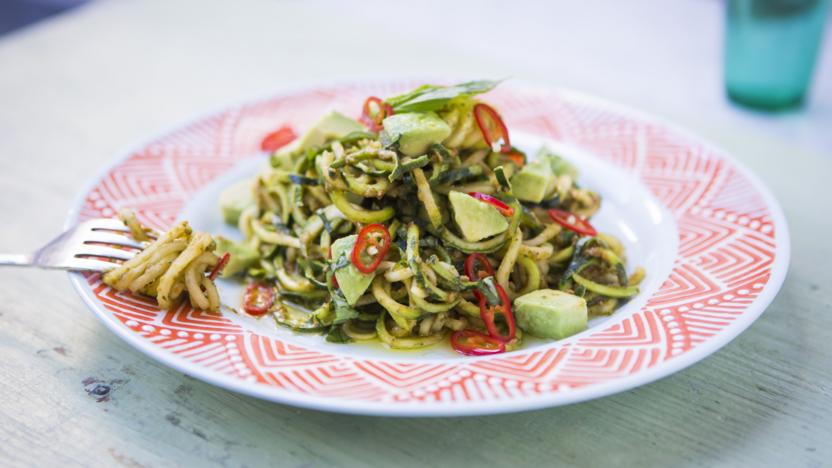 This quick, gluten-free, vegan courgetti is a delicious and healthy alternative to traditional pasta pesto.

Equipment and preparation: For this recipe, you will need a julienne peeler. This meal provides 378 kcal, 10g protein, 14g carbohydrate (of which 5g sugars), 31g fat (of which 6g saturates), 11g fibre and 0.9g salt per portion.
Ingredients
For the pesto
For the courgetti spaghetti
6 courgettes, trimmed
2 large ripe avocados, skin and seeds removed, chopped
red chilli, chopped, for garnish
2 tbsp extra virgin olive oil
Method
For the pesto, blend all of the ingredients and 9 tablespoons water to a rough paste in a food processor. Add extra water to loosen the mixture if necessary. Season with salt and pepper. Set aside.

For the courgetti spaghetti, peel spaghetti-like strands from the courgettes using a julienne peeler, collecting them in a large mixing bowl.

Dollop the pesto on top of the courgette strands and carefully stir until the courgette is evenly coated.

To serve, pile the courgetti spaghetti and pesto onto serving plates and top with the chopped avocado, reserved basil leaves, chopped chilli and a drizzle of extra virgin olive oil.
Recipe Tips
Tip 1: Cover any leftover pesto with oil, then store in the fridge for up to 1 week.
Tip 2: Add an extra 1 tbsp of water to the pesto mixture if using sun-dried tomatoes that are not in oil.
Tip 3: If you don't have a julienne peeler, use a normal vegetable peeler to slice the courgette lengthways into very wide ribbons, then julienne these using a knife.