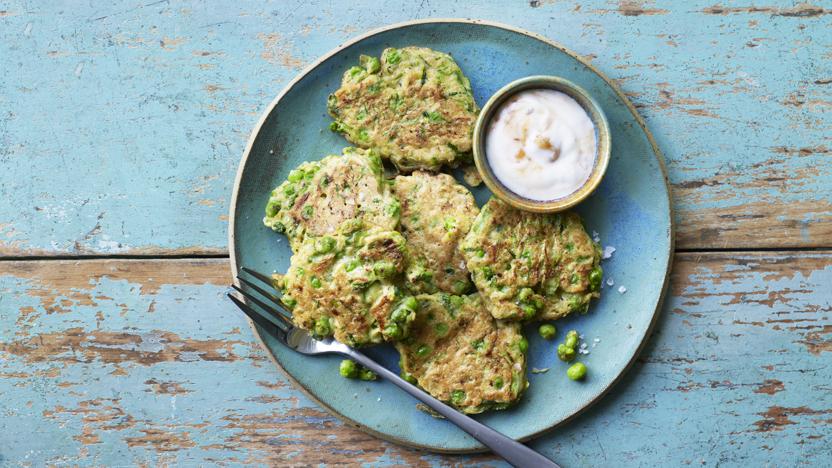 Courgette fritters are an easy, cheap and quick vegetarian lunch or dinner. This recipe uses peas and cumin, but you can use whatever vegetables and spices you have.

Each serving provides 283 kcal, 15.5g protein, 24g carbohydrates (of which 4g sugars), 15.5g fat (of which 2.3g saturates), 3g fibre and 1.8g salt.
Ingredients
For the mango chutney yoghurt
Method
Season the courgette with sea salt and set aside.

Whisk together the egg, baking powder, flour and cumin in a large bowl and season with black pepper.

Squeeze the excess water out of the courgette over the sink, then add the courgette and peas to the batter.

Heat enough oil to just cover the bottom of a large frying pan, over a medium-high heat. When the oil just shimmers, drop in heaped tablespoons of the courgette mixture, flattening them with the back of the spoon to make fritters. Fry each one for 1–2 minutes, or until golden-brown on each side. If you need to cook in batches in a smaller pan, set the fritters to drain on a plate lined with kitchen paper.

To make the dip, stir together the yoghurt and mango chutney in a small bowl.

Serve the fritters with the yoghurt.
Recipe Tips
You can instantly thaw peas by putting them in a sieve and pouring boiling water from the kettle over them.
Once you've got the hang of this recipe, you'll be able to make all sorts of veggies into fritters. Just make sure you cut everything up really small so it is all the same size, and give potatoes the same salt and squeeze treatment as the courgettes to remove as much excess liquid as possible before frying.
Serve with a pitta bread and a side salad for a more filling meal.