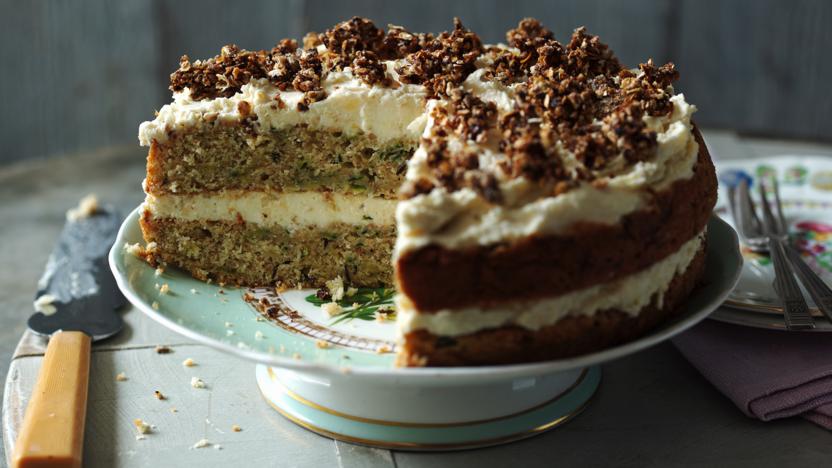 A tender courgette cake filled with apple-flavoured cream cheese and topped with crunchy caramelised oats. Almost healthy!
Ingredients
For the filling
For the topping
Method
Pre-heat the oven to 190C/375F/Gas 5. Line 2 x 20cm/8in diameter cake tins with baking parchment.

Over a medium heat in a frying pan, toast the caraway seeds for 2–3 minutes until fragrant.

Sift the flours into the bowl of a food processor then add the sugar, baking powder and salt. Add the butter and eggs and process them until they form a batter. (You can also do this in a large bowl with a handheld electric mixer.)

Tip the batter into a large bowl and gently fold through the grated courgettes and the caraway seeds.

Divide the mixture equally between the two lined cake tins and cook for 25–30 minutes or until golden-brown and springy to the touch. Remove from the tins and cool on a rack.

For the filling, grate the apples into a pan and add the apple juice as required to keep apples moist. Add the sugar and bring the mixture to a simmer, stirring occasionally until the apples are softened, caramelised and all obvious wateriness has gone. Turn off the heat and leave to cool.

Add the butter and the cooled apple mixture to the bowl of a large food processor and blend to a purée. Stir this into the softened cream cheese and set aside.

For the topping, toast the oats in a dry frying pan until golden-brown and aromatic, then add the sugar to caramelise the oats.

Once the cakes are cool, spread a thick layer of the filling on onto one cake. Gently place the other cake onto the top, then spread a thinner layer of icing on top. Sprinkle with the toasted oats and serve.