Coronation prawn vol-au-vents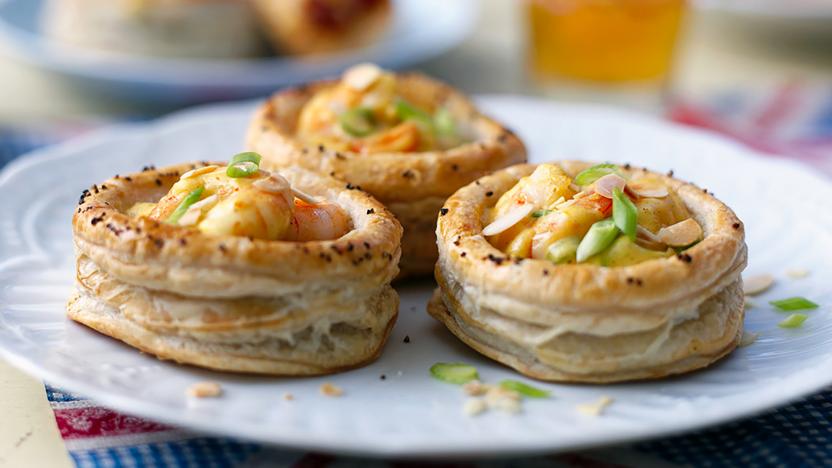 Fill pastry cases with prawns and a classic Coronation sauce, for a quick-as-a-flash canapé.
Method
Preheat the oven to 200C/400F/Gas 6.

Roll the pastry out on a floured surface to 5mm/¼in thick. Cut out 12 circles using a 9cm/3½in plain cutter. Cut a smaller circle out of the centre of six of the circles.

Place the six full circles onto a baking sheet and brush with a little beaten egg. Place the six circles with a hole cut out on top of each of the full circles and transfer to the oven for 10-15 minutes, or until risen and golden-brown.

Meanwhile, melt the butter in a frying pan, stir in the flour and cook until the mixture forms a smooth paste.

Remove from the heat and gradually whisk in the hot fish stock and curry paste. Return to the heat, season, to taste, with salt and freshly ground black pepper and bring to the boil. Reduce the heat until the mixture is simmering and simmer, stirring constantly, for 10-12 minutes, or until thickened.

Beat the egg yolk and cream together in a bowl, then whisk into the sauce.

Stir the prawns, nuts and spring onions into the sauce and spoon into the cooked pastry shells.

Return to the oven and bake for 10-12 minutes. Serve immediately.