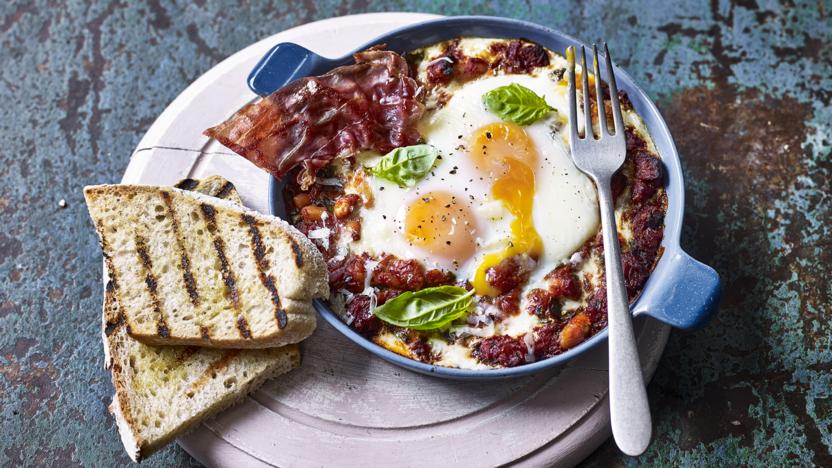 Baked eggs in a rich tomato and chorizo sauce makes a brilliant brunch dish. Top with crispy Parma ham and Parmesan for ultimate indulgence.


Method
Preheat the oven to 200C/180C Fan/ Gas 6.

Heat a frying pan over a medium heat and add the chorizo. Once the chorizo has begun to colour and release it's oil, add the shallot and garlic and cook for 2–3 minutes.

Deglaze the pan with the sherry vinegar, then add the passata and cook until the sauce has thickened.

Stir in the kale, basil leaves and cannellini beans. Season with salt and pepper.

Divide the mixture between four large ovenproof ramekins and make a well in the middle of each. Crack 2 eggs into each well and bake for 10–12 minutes, or until the egg white is cooked but the yolk is still runny.

Meanwhile, drizzle the bread with olive oil and chargrill on a preheated griddle pan, or grill. Fry the Parma ham in a frying pan on a medium-high heat, until crisp.

Remove the eggs from the oven, season with salt and pepper and garnish with the basil and crispy Parma ham. Sprinkle over the Parmesan and serve.