Confit tomato and aubergine tarte tatin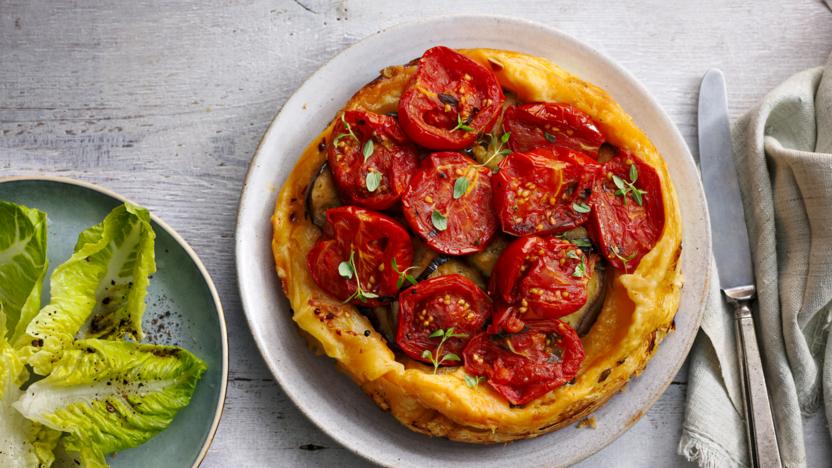 I find that I'm increasing the number of vegetable-based dishes in my books more and more. This is mainly because people keep asking me for them, but I also think that most of us eat too much meat and dishes like this are simply superb in their own right.

You will need a 20cm/8in tarte tatin dish.
Ingredients
For the confit aubergines
For the confit tomatoes
For the tarte tatin
Method
For the confit aubergines, put the aubergine slices in a colander and sprinkle with the salt. Turn the slices over and sprinkle the other side. Set the colander over a bowl and leave for 30 minutes. Rinse the slices and dry with kitchen paper. Discard any juices. Place the aubergine in a small roasting tin. Preheat the oven to 110C/90C Fan/Gas ¼. Pour the oil into a small saucepan. Add the garlic, thyme and chilli and warm over a low heat. Carefully pour the warm oil mixture over the aubergine slices in the tin, making sure that the slices are all submerged.

Meanwhile, for the confit tomatoes, arrange the tomatoes, cut-side up, in a roasting tin just big enough to hold them in one layer. Season with salt and pepper. Nestle the garlic clove and thyme sprig among the tomatoes, then pour over the oil and balsamic vinegar.

Cook the tomatoes and aubergines in the oven for 2–2½ hours. Carefully transfer the tomatoes into a sterilised jar with the juices and oil from the tin. Carefully transfer the aubergine slices into a sterilised jar with the oil from the tin. Screw on the lids and leave to cool. Once cool, drain all of the oil away thoroughly from the tomatoes and aubergines so they are ready to use in the tarte.

Preheat the oven to 200C/180C Fan/Gas 6. Rub the inside of the tarte tatin tin with the cut garlic clove and arrange the confit tomatoes, cut-side down, over the base. Next arrange a layer of confit aubergines over the tomatoes. Sprinkle with the herbes de Provence and season with salt and pepper.

Roll out the pastry into a circle a little larger than the tin to allow for shrinkage and place it over the aubergines. Tuck the edges of the pastry into the dish and prick a few holes with a sharp knife to let the steam out. Bake the tarte for 25–30 minutes, until the pastry has risen and is golden and crisp.

Remove the tarte from the oven and leave to cool a little. Carefully cover the tin with a plate and invert to turn the tarte out. You may need to rearrange a few of the vegetables with a palette knife if dislodged and blot up any oil spills on the plate.

Sprinkle the tarte with the thyme leaves, cut into slices and serve warm or at room temperature.
This recipe is from...
Recipes from this episode