Fish and potato traybake with pesto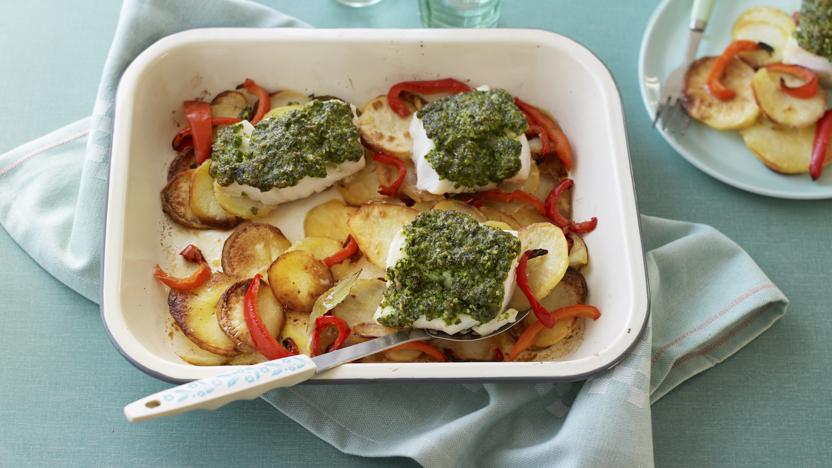 This filling, flavour-packed cod traybake recipe makes an excellent weekend lunch or week-night dinner. You can use any firm white fish in place of the cod – hake, pollack or haddock would all work well.

Each serving provides 500 kcal, 28.5g protein, 34g carbohydrates (of which 5.1g sugars), 26.5g fat (of which 4.5g saturates), 5g fibre and 1.6g salt.
Method
Preheat the oven to 200C/180C Fan/Gas 6.

Mix the potatoes, peppers, bay, garlic, oil, salt and a good pinch of black pepper in a large roasting tin. Cover tightly with kitchen foil and bake for 1 hour.

Meanwhile, to make the pesto, blend the garlic and pine nuts in a food processor. Add the basil and pulse until roughly chopped. With the motor still running, add the oil and blend briefly. Stir in the Parmesan, lemon juice and salt.

Place the cod on top of the vegetables and spread each fillet with a quarter of the pesto. Bake, uncovered, for 15 minutes, or until the fish is cooked through. Serve immediately.
Recipe Tips
Save money by buying frozen fish fillets and cooking them from frozen. Many flaky fish are actually better cooked from frozen. Simply rinse under cold water to remove any ice crystals and continue as directed in the recipe. It will just take an extra few minutes to cook. Insert a metal skewer or knife into the thickest part to check it's hot all the way through.