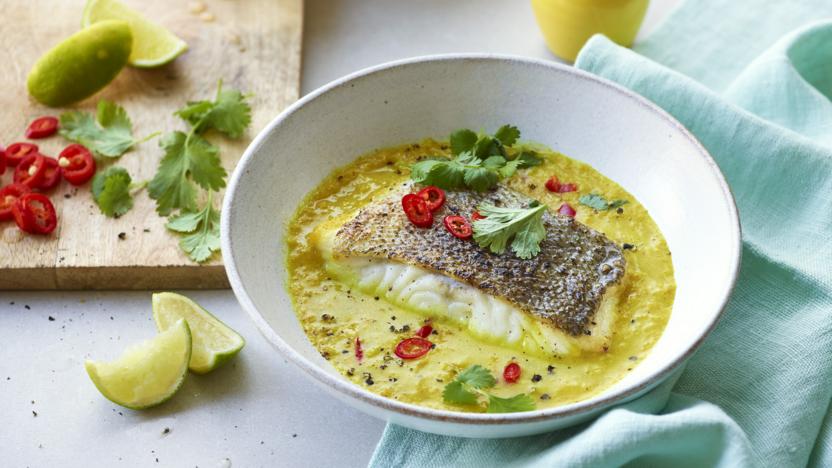 If you like curry sauce with your fish and chips, you'll love this. Perfectly seasoned cod is cooked with a beautifully spiced katsu sauce that takes minutes to make.

Ingredients
For the katsu
For the fish
Method
To make the katsu, heat the oil in a medium frying pan and fry the onion, ginger and garlic until well softened and just beginning to colour, stirring regularly. Stir in the curry power, turmeric and chilli flakes and cook for a minute more, stirring constantly.

Pour the coconut milk into a blender, add the fried onion mixture, cornflour, sugar and 50ml/2fl oz cold water. Pulse to make a smooth purée. Set aside while you cook the fish.

For the fish, heat the oil in a separate non-stick frying pan. Season the fish with salt, pepper and a pinch of turmeric. Fry skin-side down for 2 minutes, then gently turn over and fry on the other side for 2–3 minutes more, or until almost fully cooked but still holding its shape.

Pour the curry sauce into the pan with the fish and simmer for about 3 minutes, or until the fish is cooked and the sauce has thickened, adding an extra splash of water if needed. Season with lime juice, salt and pepper. Serve with freshly cooked rice.
Recipe Tips
If your fish doesn't have skin, cut into large cubes and instead of frying, add directly to the sauce and simmer for 4–5 minutes, or until cooked, adding a little extra water if needed.
This recipe is from...
Recipes from this episode