Coconut prawn curry with pea pilau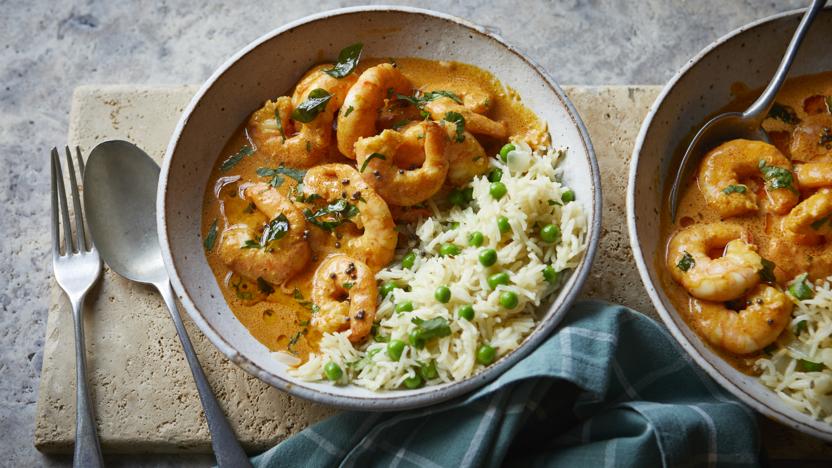 This coconut prawn curry with pea pilau has layers of warm spicy flavour and succulent prawns, accompanied by a simple rice dish. Perfect for 'curry night'.
Ingredients
For the curry paste
For the prawn curry
For the pea pilau
For the tarka
To serve
Method
To make the curry paste, blend the shallots, garlic, ginger and chillies to a smooth paste, using a mini food processor or stick blender.

For the curry, heat the coconut oil in a large non-stick pan over a medium heat and add the curry paste. Fry for 3–4 minutes, stirring continuously. Add the ground spices and fry for a further 2–3 minutes until fragrant.

Add the creamed coconut, tamarind paste and salt. Pour in the fish stock and passata and bring to the boil, then reduce the heat to a gentle simmer and cook for 40–45 minutes, stirring frequently, until the oil separates.

Meanwhile, make the pilau. Heat the ghee in a large saucepan, add the cumin seeds and fry for a minute before adding the onion. Cook over a low–medium heat for 8–10 minutes until the onion is dark brown and caramelised. Add the salt. Drain the soaked rice and add to the pan. Pour in the vegetable stock and bring to the boil, then reduce the heat, cover with a lid and cook for 10 minutes. Add the petits pois for the last couple of minutes of cooking. Turn off the heat and leave in the pan for a few minutes.

To finish the curry, add the prawns to the pan and cook for 8–10 minutes or until they are cooked through, stirring frequently.

To make the tarka, heat the coconut oil in a small frying pan and once hot, add the mustard seeds and curry leaves. Heat for a minute or two until the seeds splutter. Add to the curry and stir together.

Stir the cream into the curry. Spoon the pea pilau onto plates and serve the curry alongside, with the chopped coriander scattered over.