Coconut pancakes with caramelised bananas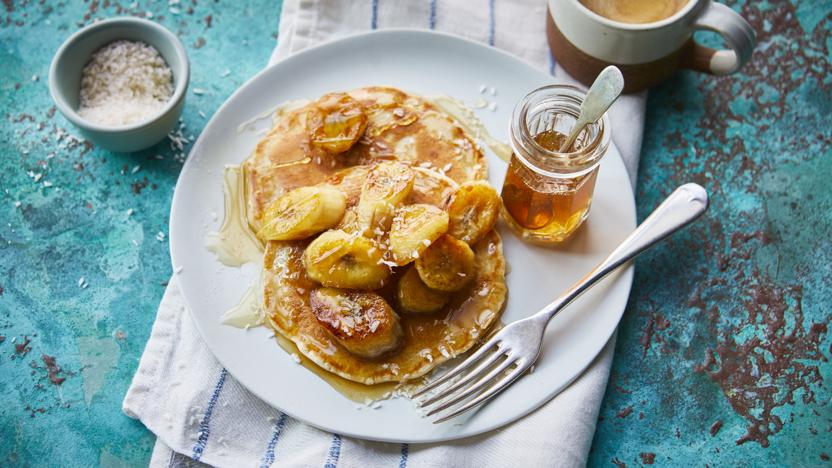 These delightfully decadent pancakes are a great way to use up leftover coconut milk. They can easily be made vegan – just swap the egg for a ripe, mashed banana.
Ingredients
For the pancakes
For the bananas
Method
Sift the flour, caster sugar, bicarbonate of soda and salt into a bowl, then stir in the cinnamon (if using vanilla extract, stir it into the wet ingredients in the next step).

Beat the egg and coconut milk together in a separate bowl using a balloon whisk. Make a well in the centre of the dry ingredients and gradually add the egg, drawing the mixture in from the sides a little at a time to avoid big lumps.

Wipe a small amount of oil around a non-stick medium frying pan set over a medium heat. Add about an espresso cup full of batter to the pan, then another, leaving a little space between the two.

Cook for 2 minutes, or until bubbles appear on the surface of the pancakes and the undersides are golden brown. Flip and cook for another 1–1½ minutes until both sides are golden brown. Keep warm in a low oven while you cook the remaining batter, you should have about 8 pancakes in total.

Remove the last of the cooked pancakes from the pan to the oven, and increase the heat to cook the bananas. Put the butter or coconut oil and the soft brown sugar in the pan. When melted and combined, add the sliced bananas and stir gently until softened and caramelised on both sides.

To serve, stack the pancakes onto plates and top with the caramelised bananas, a little coconut, if using, and a drizzle of honey or maple syrup.
Recipe Tips
To make these pancakes vegan, replace the egg with 1 small, ripe mashed banana, and use coconut oil to cook the bananas.