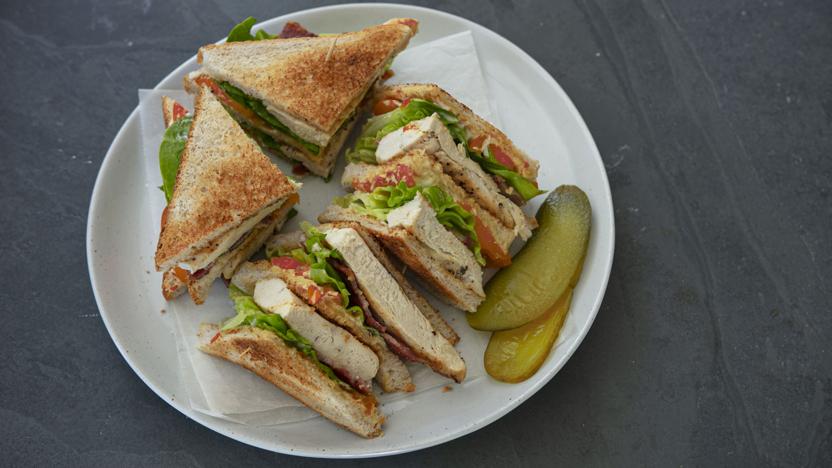 A club sandwich is a thing of beauty. You can fancy it up with extra fillings like avocado, mustard, thinly sliced red onion, but you can also keep it simple. This double layer sandwich is definitely filling enough for dinner with a side of soup or some crispy chips.
Method
Heat a frying pan over a medium heat. Add a drizzle of oil, then the bacon slices to the pan and fry for 5–10 minutes, turning the bacon every so often, until it is crisp and browned all over. Transfer to a plate lined with kitchen paper.

Slice the chicken breast horizontally in two, so you have two thinner pieces. Season with salt and pepper, then fry the chicken in the hot bacon fat over a medium–high heat until they are browned and completely cooked through.

Meanwhile, toast the bread to your liking. Spread each slice with a teaspoon of mayonnaise. Build the sandwich by adding lettuce leaves and tomato slices to the bottom piece of toast, season with salt and black pepper, then top with a slice of the crisp hot bacon.

Slice each large piece of chicken breast into 4 or 5 equal pieces on a diagonal so they are easy to spread across the sandwich.

Place the second piece of toast on top, then repeat the layering again finishing with the final piece of toast. Cut the sandwich diagonally in both directions to create 4 triangles, securing each with a cocktail stick.