Clotted cream rice pudding with caramelised pineapple
Try this recipe for a comforting rice pudding with a Caribbean twist.
Ingredients
For the rice pudding
For the caramelized pineapple
Method
For the rice pudding, melt the butter in a saucepan until foaming and fry the rice for one minute. Add 50g/2oz of the sugar, 500ml/16floz of the milk, the double cream and vanilla pod and bring the mixture to the boil.

Reduce the heat to a simmer and cook for 30-40 minutes until tender and all the liquid is absorbed. (If you're cooking the rice pudding in advance, spread the rice onto a tray and set aside to cool, chill in the fridge until needed.)

Return the rice to a saucepan, add the remaining milk and slowly bring to the boil. Stir in the clotted cream until well combined.

Spoon the mixture into a baking dish, sprinkle over the remaining sugar and caramelise with a cook's torch or under a hot grill.

Meanwhile, for the caramelised pineapple, heat a frying pan until hot, add the pineapple and cook for 1-2 minutes on each side. Add the lemon juice, sugar and butter and cook for a further 1-2 minutes, or until the sauce is bubbling and thickened.

To serve, spoon some pineapple slices onto serving plates, spoon the rice pudding alongside and finish with a drizzle of the pineapple caramel.
Related Recipes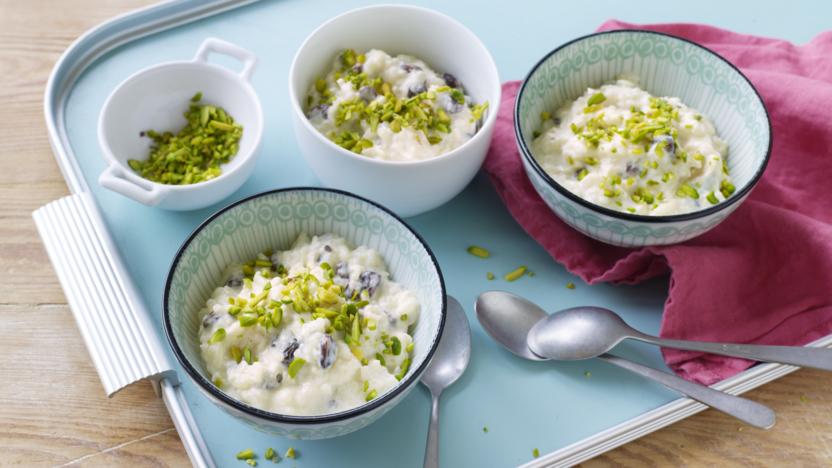 Kheer
By The Gangotra Family
See more rice pudding recipes (21)