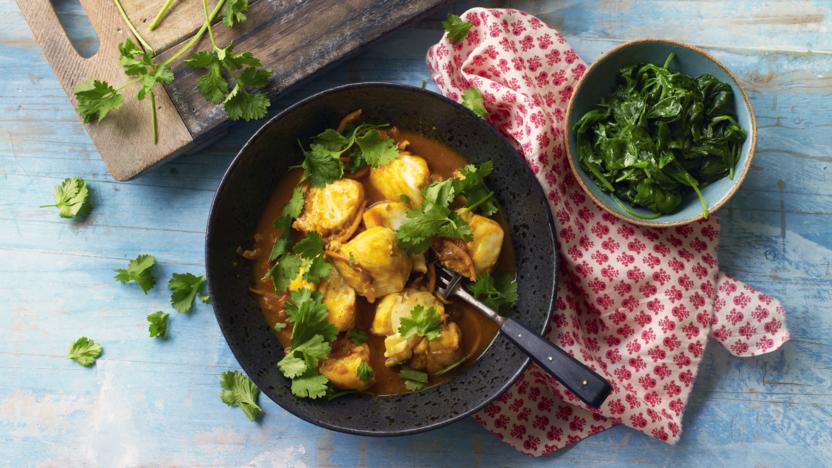 We used to eat this fragrant curry as children – it's one of my earliest memories – and it's on the table in 30 minutes.
Ingredients
For the curry
For the spinach
Method
For the curry, place a large lidded pan over a medium heat and add the oil. Add the garlic and onion and cook until softened. Add 1 teaspoon salt and if the onions stick to the pan add splashes of water.

Add the chillies and tomato purée and cook for 2 minutes. Add the turmeric, chilli powder and curry powder. Add a little water and cook for 5–7 minutes, or until the oil rises to the surface.

Meanwhile, thinly slice the clementine peel and add it to the pan with the 200ml/7fl oz water (or clementine juice). Cook for 10 minutes, or until the peel has melted down.

Add the cod, stir and put the lid on. Cook for a few minutes, or until firm, white and cooked through. Remove from the heat and add the coriander.

Put the spinach in a large pot with the garlic and a pinch of salt. Dry steam on a low heat for 3 minutes, until wilted right down; it should keep its bright-green colour. Dry steaming is cooking without any oil; rinsed spinach has enough moisture on it to steam it and cook the garlic.

Serve the fish curry with the spinach on the side.
This recipe is from...
Recipes from this episode