Clementine and almond cake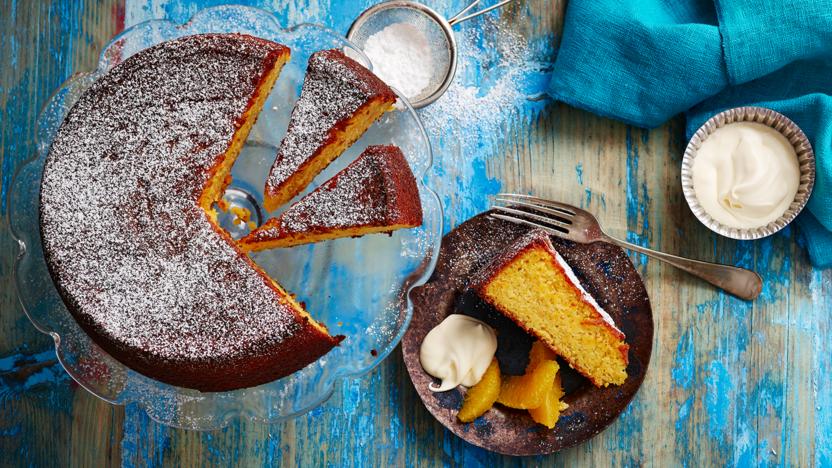 This cake is a celebration of Californian citrus fruit. After the gold rush, the prosperity of this state, came from the massive cultivation of oranges. Californians treat citrus in the same way as the British view apples. They know all the many varieties and shop for them by taste and name. You can use any kind of small citrus fruit for this cake.
Ingredients
For the syrup
To serve
Method
Place the clementines in a saucepan and cover with water. Bring to the boil and simmer gently for 20–30 minutes until tender. Remove and set aside until cool enough to handle. Cut the clementines in half and discard the pips.

Put the clementines, including the skin, into a food processor and blend to a paste.

Preheat the oven to 180C/160C Fan/Gas 4, grease a 20cm/8in spring-form cake tin and line the bottom with baking paper.

Whisk together the eggs, lemon zest and caster sugar in a bowl. Add the olive oil and beat until light and well combined. Stir in the clementine paste then fold in the ground almonds and baking powder.

Spoon the mixture into the tin and bake for 50 minutes or until well risen and golden-brown. The cake should have slightly shrunken from the sides and be springy to the touch. Leave it to cool in the tin on a wire rack.

Meanwhile, to make the syrup, warm the sugar and lemon juice in a small pan over a low heat until the sugar has dissolved. Make lots of small holes all over the cake with a piece of uncooked spaghetti or cocktail stick, and drizzle over the lemon syrup. Let the cake cool completely in the tin, turn it out on to a serving plate, dust with icing sugar and serve with whipped cream and orange segments.
This recipe is from...
Recipes from this episode