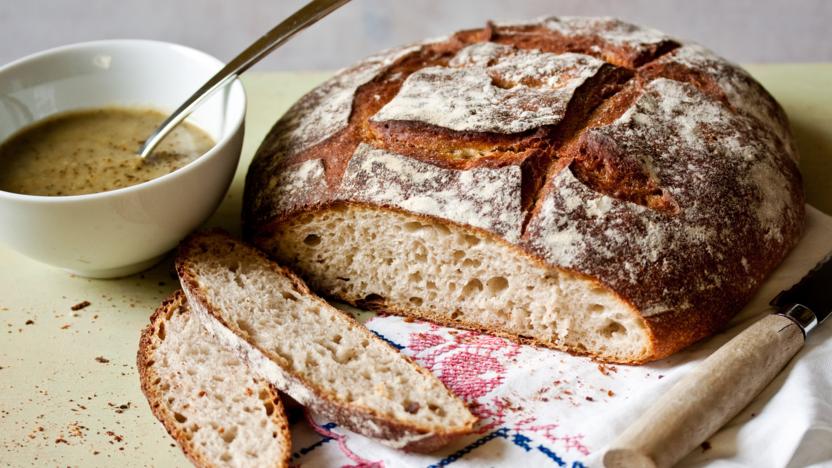 Once you've made your own sourdough 'starter' and produced a few loaves using it, there'll be no going back to supermarket bread.
Method
Combine the flour, starter and salt in a large mixing bowl. Add the water, a little at a time, and mix with your hands to make a soft dough (you may not need all of the water).

Coat a chopping board or work surface with olive oil, then tip the dough onto it and knead the dough for 10-15 minutes, or until the dough forms is smooth and elastic.

Tip the dough into a lightly oiled bowl and cover with cling film. Leave to rise in a warm place for five hours, or until at least doubled in size.

Knead the dough until it's smooth, knocking the air out. Roll into a ball and dust with flour.

Tip the dough into a well-floured round banneton or proving basket and leave to rise for 4-8 hours.

Put a tray half filled with water on the bottom oven shelf and preheat the oven to 220C/425F/Gas 7.

Gently tip the risen dough onto a lined baking tray. Bake the loaf for 30 minutes at this heat, then reduce the heat to 200C/400F/Gas 6 and bake for a further 15-20 minutes. Cool on a cooling rack.